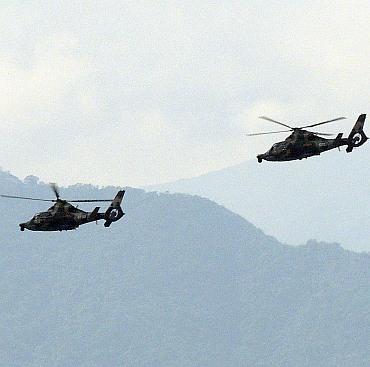 Two Chinese helicopters entered Indian territory in Uttarakhand on two occasions in April and June after which the Army launched protests with the Chinese Army, the Rajya Sabha was informed on Tuesday.

"Due to differing perception of the Line of Actual Control by both India and China, transgressions do occur. Two Chinese helicopters transgressed the LAC on April 30 and June 13 in Uttarakhand," Defence Minister Arun Jaitley said in written reply to a query.
For more defence news, CLICK HERE
"Protests were lodged regarding the above transgressions with the Chinese side in flag meetings on May 5 and June 23 respectively," he said.
The minister said the incidents of transgressions are taken up with the "Chinese side through established mechanisms such as flag meetings, Border Personnel Meetings and normal diplomatic channels like working mechanism for consultation and coordination on India-China border affairs etc."
There have been many incidents related to transgression and face-offs between Indian and Chinese troops along the LAC in last few years.
The two countries signed the Border Defence Cooperation Agreement to prevent any flare ups between the troops of the two sides while patrolling the more than 4,000 km long LAC.