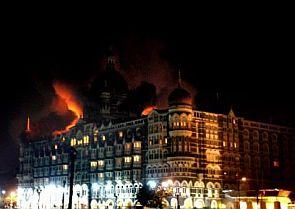 A Pakistani anti-terrorism court on Saturday had to put off the cross-examination of a key witness in the Mumbai attacks case as the lawyer of the main accused, Lashkar-e-Tayiba commander Zakiur Rehman Lakhvi, did not attend the hearing.

Judge Chaudhry Habib-ur Rehman of the Rawalpindi-based court adjourned the case till May 4 on the basis of an application from Khwaja Haris Ahmed, the counsel for Lakhvi.
Defence lawyers were to cross examine four private witnesses, including one who had identified an accused as the person who had bought inflatable boats that were used by the terrorists in the assault on Mumbai in November 2008.
In his application, Ahmed informed the judge that he could not attend Saturday's proceedings because of a "domestic issue", sources told PTI.
The court accepted the application and adjourned the case till next Saturday.
After the hearing, chief prosecutor Chaudhry Zulifqar Ali of the Federal Investigation Agency told PTI that the defence lawyers should have completed the cross-examination of the four witnesses at the last hearing on April 13.

"It's very strange that the defence lawyers are delaying the cross-examination of the witnesses. It is making a mockery of the trial and deliberately causing delays," he said.
He said the witnesses, who had come to Rawalpindi from Karachi, had to suffer because of the defence lawyers.
At the last hearing, one witness identified accused Shahid Jamil Riaz as the person who had bought the boats used by the terrorists.
Another witness told the judge that he had sold the accused a Yamaha boat engine for Rs 1.6 lakh and yet another witness said he had sold the accused six pumps.

The four witnesses also identified 10 men, including Amjad Khan and Atiqur Rehman, who were allegedly involved in planning and executing the Mumbai attacks.
These 10 men were earlier declared "proclaimed offenders" or fugitives by the anti-terrorism court.
One witness told the court that Amjad Khan had obtained from him a "port clearance certificate" for Al-Hussaini, a fishing boat used by the terrorists.
Khan is a shadowy LeT organiser and financier from Karachi who figured in a majority of dossiers provided to Pakistan by India.
Khan, who hails from Multan, played a key role in arranging and providing funds to the 10 terrorists who attacked Mumbai.
Pakistani authorities have so far arrested seven suspects, including LeT operations commander Lakhvi.

They have been charged with planning, financing and executing the attacks that killed 166 people in November 2008.

Their trial has progressed at a snail's pace due to repeated adjournments and various technical delays.

Nine of the terrorists involved in the attack were killed by Indian security forces.
The only surviving attacker, Ajmal Kasab, was hanged in Pune jail late last year.