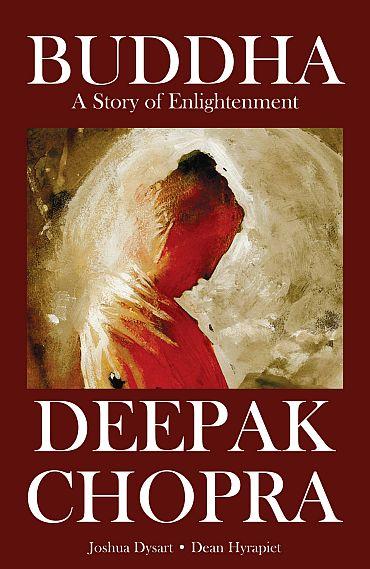 A bestselling novel for weeks in America, Canada and other countries, Deepak Chopra's Buddha: A Story of Enlightenment (2008), is now coming to the bookshops in a new avatar -- a 160-page hardcover graphic work.

Chopra has collaborated with acclaimed graphic novelist Joshua Dysart, known for working on books with dark themes like B.P.R.D, Greendale, and Unknown Soldier.

The hardcover graphic book might satisfy those who had started reading it as a comic several years ago. The six-issue comic book mini-series adaptation was halted when Virgin Comics went under.

Chopra and other Virgin Comics partners -- his son Gotham, Suresh Seetharaman and Sharad Devarajan -- then launched Liquid Comics, which has produced the new hardcover. Gotham Chopra edited the book.

'Buddha's story from shedding his royal robes to taking on his monastic ones, from abandoning the false promises of materialism to understanding the truth that lurks in self-understanding, is one of the most powerful and insightful stories human civilization has ever known,' Chopra said.

'To be able to bring that story to a whole new audience through a graphic novel re-telling with the help of Josh Dysart and (illustrator)

Dean Hyrapiet is something I am very proud of.'

The novel has also been available as an audiotape for about a year, with Chopra doing the narration. The comic books had won quite a bit of acclaim.

'The dialogue and tone of the writing is respectful and contemporary,' wrote Broken Frontier, which specialises in comic book stories.

'Dysart takes the source material and uses it as a modern parable, even when he throws in the ancient parables of soothsayers.'

Buddha continues to be one of Chopra's most-read books. The bestselling New Age guru has written nearly 48 books in the past 25 years that have been translated into more than 30 languages.

Chopra hopes the novel could launch a movie version. Though several Buddha projects have been announced in the last few years, none seems to be close to starting production.