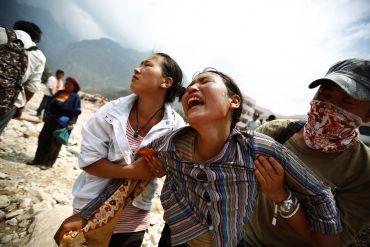 The death toll from the worst landslides in decades in a Tibetan-majority region in China's northwest rose sharply on Wednesday to 1,117 while 627 people were still missing, as rescuers scrambled hard to sift through thick layers of mud and rocks to find possible survivors.
The death toll, which stood at 702 on Tuesday, has risen to 1,117, with 627 still missing, local authorities at Zhouqu County in northwest China's Gansu Province, said.
A total of 567 survivors had received clinical treatment and further 64 seriously injured had been hospitalised, the provincial civil affairs bureau said in a statement.
Authorities stepped up rescue and relief work at the site of the deadly mudslide, Vice Premier Li Keqiang said.
"China will strive to improve its disaster prevention capabilities and ensure the safety of people's lives and property," Li said.
A 50-year-old man was rescued on Wednesday from a flooded hotel in northwest China where he was trapped for more than three days after a devastating mudslide in the region. Wang Dianlan was found on the second floor of Zhouqu's Fuxing Hotel, which was devastated by mudslides triggered by heavy rains in Zhouqu County in northwest China's Guansu Province.
He was found after 81 hours of search.
More than 10,000 soldiers and rescuers combed through the mountains of mud. But the window of survival was fast closing with authorities turning their attention to avert further flash in the form of new floods and possible disease outbreaks after Sunday's incident.
Torrential rains on Saturday night had triggered an avalanche of sludge and debris to crash down on the county seat of Zhouqu, ripping houses off their foundations and tearing six-story apartment buildings in half.
The mud-rock flow levelled an area which was five km long, 300 metres wide and 5 metres deep in the county seat, with more than two million cubic metres of mud and rocks, severely damaging telecommunication lines, power and water supply facilities. Yueyuan village, which sits at the foot of craggy mountains, was reduced to a mess of yellow slush and debris with not a single structure left standing.
At least 30 percent of the local population is Tibetan.
Image: A woman mourns her missing relatives in the landslide-hit Zhouqu County of Gannan Tibetan Autonomous Prefecture | Photograph: Aly Song/ Reuters