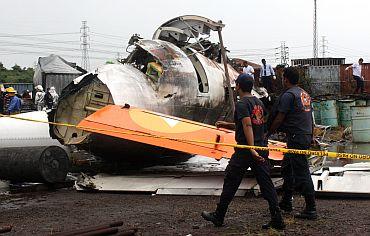 An aircraft carrying 51 passengers and crew crashed shortly after take-off in eastern Venezuela, killing at least 14 people, the officials informed on Monday.
"A total of 33 people are being cared for at different clinics," said Francisco Rangel Gomez, governor of Bolivar state, where the accident occurred, reports stated.
"We have 14 bodies that are being identified and we are searching for four people" in the wreckage of the aircraft, he added.
The Conviasa Airline plane was en route to the resort city of Isla Margarita when it went down about six miles (10 kilometres) from Puerto Ordaz, carrying 47 passengers and four crewmembers.
Gomez informed that the plane's crew lost contact with the control tower before the accident and it could be the reason for the crash.
Civil protection official Jose Garcia said local hospitals had been put on alert and a special burns unit was on stand-by.
One of the world's deadliest airplane crashes, a 2005 accident that killed 160 people, happened in Venezuela.
Image: Rescue workers search for victims at the place where a ATR-42 plane crashed in Puerto Ordaz in Venezuela on Monday
Photograph: Reuters