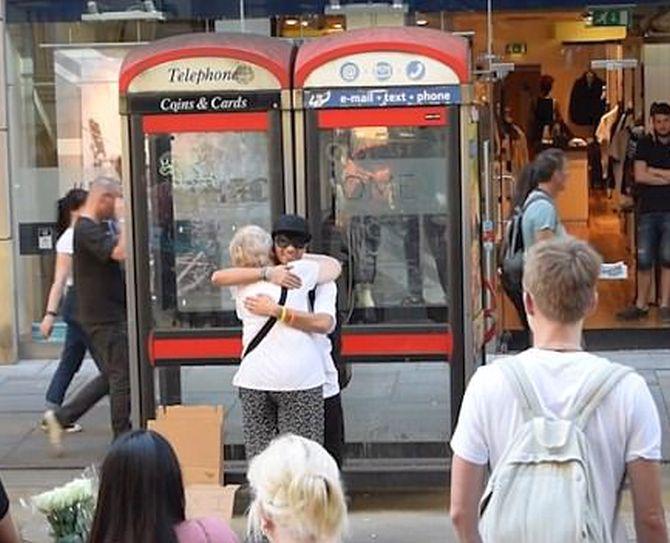 A Muslim man spent hours giving "free hugs" on a busy street in UK's Manchester after the deadly explosion which killed 22 people at an Ariana Grande concert.
Baktash Noori stood by a sign which declared 'I'm a Muslim and I trust you. Do you trust me enough for a hug?'
He stood with his eyes covered and his arms outstretched on the busy street.
He decided to film the moving 'social experiment' and posted the video (external link) on his YouTube channel The Life of Bako.
Many responded willingly to his appeal, having vowed after the attack not to be divided by hate.
"The first 30 seconds were nerve racking, but once I got that first hug with a lovely comment from that gentleman in my video, it made me feel a whole lot better," he told Manchester Evening News.
"With every hug, the comments I received were amazing, some were getting all teary and it's not hard to tell by a person's hug and tone of voice how much better their and my day became because of this.
"I did not expect so many people to come and hug me, let alone give me such positive comments, but it was the best thing I've ever done."
Noori hopes that his film will show that simple acts of contact can make a difference -- and unite the city's communities.
He added: "Being a Muslim living in Manchester, there is always going to be a couple of people that simply struggle to grasp and understand 'religion'.
"Muslims typically get represented by some as terrorists. Now usually when I see comments like this on social media when a tragic event happens I try and ignore it regardless of how much it gets to me, but after the incident that occurred in Manchester recently, it affected me a lot, so much hate crime and hate comments being shown all across the web and news it just hurts to see it all."
After the May 22 attack there has been a spike in hate crimes.
Police have arrested 11 people aged between 18 and 44 years, including the brother of bomber Salman Abedi.