Senior Congress leader Sachin Pilot reached Delhi on Wednesday, a day after he observed a fast in Jaipur demanding action in cases of alleged corruption under the previous Vasundhara Raje-led Bharatiya Janata Party government in Rajasthan.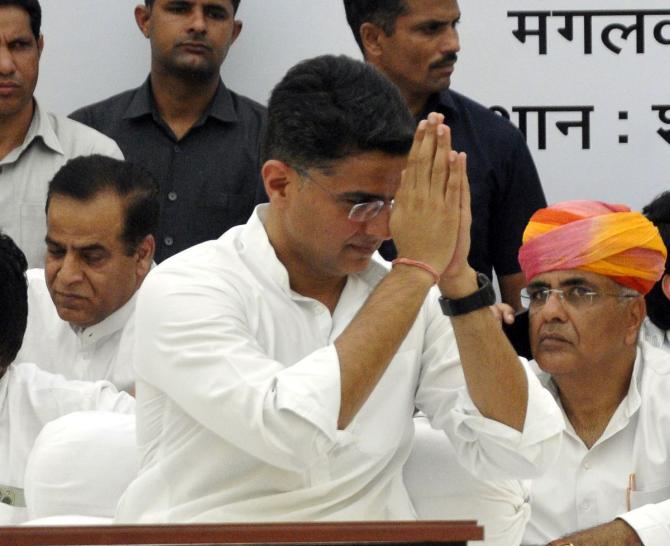 There was speculation that he might meet the party's All India Congress Committee in-charge of Rajasthan Sukhjinder Singh Randhawa and other senior leaders, but sources close to Pilot said no meetings were fixed.
On Tuesday, Pilot sat on a daylong fast in Jaipur, urging the Ashok Gehlot government in Rajasthan to act on alleged cases of corruption when the BJP ran the state under Vasundhara Raje.
Defying the Congress central leadership's warning that the move would be considered 'anti-party', Pilot went ahead with his fast from 11 am to 4 pm.
As he left the site where he held the fast in Jaipur, Pilot told reporters that Rahul Gandhi, the Congress and other opposition parties have united over corruption and financial irregularities, and claimed that his fast will speed up this movement.
The former deputy chief minister also said that he wrote two letters on this issue to Gehlot last year but received no reply.
"We had assured people that effective action will be taken against corruption by the former BJP government. I wanted the Congress government to take action but it has not happened in over four years," Pilot said.
This struggle against corruption will continue, he added.
Both Gehlot and Pilot were keen on the chief minister's post when the party won in the state assembly elections in 2018.
But the Congress high command picked Gehlot for the top post for a third time.
In July 2020, Pilot and a section of Congress MLAs had rebelled openly against Gehlot, demanding a change of leadership in the state.
Pilot was then stripped of the posts of deputy chief minister and Pradesh Congress Committee president.
The month-long crisis ended after the Congress central leadership's assurance to look into the issues Pilot raised.
Gehlot later used terms like 'gaddar' (traitor), 'nakara' (failure) and 'nikamma' (worthless) for Pilot, and accused him of being involved with BJP leaders in a conspiracy to topple the Congress government.
Last September, MLAs in the Gehlot camp boycotted a Congress Legislature Party (CLP) meeting and held a parallel one to stall what they felt was an attempt to make Pilot the new chief minister.
Gehlot was then being considered for the party president's post.