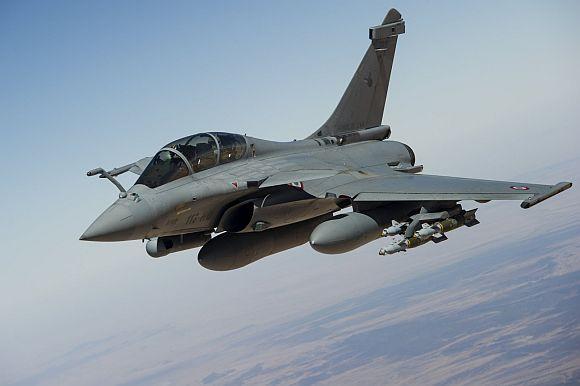 French aerospace major Dassault Aviation considered selection of Reliance Defence as an offset partner 'mandatory' to bag the Rafale contract, suggests a new report by French investigative journal Mediapart.
Mediapart is the same publication that carried an interview with former French President Francois Hollande in which he had said that it was the Indian government that proposed Reliance's name and Dassault had no choice but to take the company given to it.
According to a report (external link) by NDTV, an internal document of Dassault Aviation shows the 'aerospace major picking Anil Ambani's Reliance Defence as the offset partner in India was mandatory for the 36 jet deal'.
The report quoted the Mediapart article as saying that top Dassault official Loik Segalen had explained to staff representatives on May 11, 2017, that the joint venture with Reliance was 'imperative and mandatory' to win the Rafale deal.
It says there has been no response from Dassault about the report.
A translation (external link) of the document from French made available by online portal The Wire contained the following quote by Segalen:
'It is imperative and obligatory for Dassault Aviation to accept this [trade-off/counterpart] to obtain the export contract (for?) Rafale India.'
Sharing the Mediapart report, Congress MP Shashi Tharoor wrote on Twitter, 'Explosive revelation in French media: an internal Dassault document says the Reliance offset deal was a 'trade-off', 'imperative and obligatory' to clinch the #Rafale deal.'
Last month, Hollande said that France did not choose to partner with Anil Ambani's company in 'any way' and added that only Dassault can comment on the Rafale fighter jet deal.
The report comes in the backdrop of Defence Minister Nirmala Sitharaman's three-day visit to France, during which both sides are expected to deliberate on further boosting the defence and security ties.
Officials sources said Sitharaman will hold wide-ranging talks with her French counterpart Florence Parly on ways to deepen strategic cooperation between the two countries and also deliberate on major regional and global issues of mutual interests.