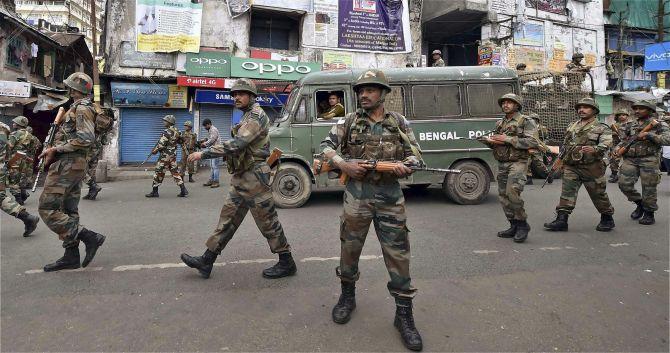 IMAGE: Security personnel patrol during GJM strike in Darjeeling on Saturday. Photographs: Ashok Bhaumik/PTI Photo

Darjeeling, on the boil over the demand for a separate Gorkhaland state, on Saturday witnessed widespread clashes between Gorkha Janmukti Morcha activists and police, killing a civilian and seriously injuring an India Reserve Battaliion assistant commandant.
GJM leader Binay Tamang claimed that two of his party workers were killed when the police opened fire at a GJM procession in Darjeeling.
ADG (law and order) Anuj Sharma, however, denied the allegation and said the police did not open fire.
"It was the GJM activists who opened fire," he said.
One person was killed in the violence, he said. Many others suffered injuries during the protests.
This was the first death since violent protests returned to Darjeeling on June 8, after a gap of a few years.
Chief Minister Mamata Banerjee told reporters in Kolkata that Assistant Commandant of the India Reserve Battalion's 2nd Battalion Kiran Tamang was critically injured in the violence.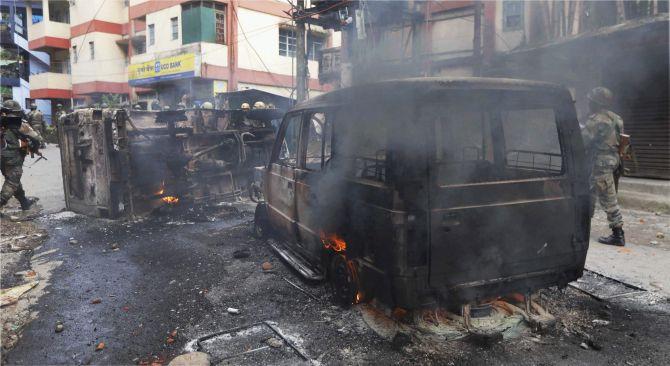 IMAGE: A vehicle set on fire by protesters.

He has been admitted to a hospital, she said.
Earlier, IRB sources said Tamang had been killed in the clash.
Singmari area in Darjeeling turned into a battleground as GJM activists threw petrol bombs and stones at the anti-riot police personnel, who fired teargas shells and baton-charged to disperse the mob.
The incident, in which several people were injured, prompted the administration to deploy Army contingents in the area.
Activists of the GJM, spearheading the agitation demanding a separate state since June 8, took out a protest rally from the party headquarters in Singmari.
As prohibitory orders were in force in the area, the police told the protesters, who were carrying the tricolour and GJM flags, to return.
The slogan-shouting protesters did not relent and started throwing stones and bottles at the police. A vehicle was also set on fire.
"We asked them to go back but they started throwing stones, bottles and petrol bombs. We had to resort to lathi-charge," a senior police official said.
Some police personnel and GJM activists were injured in the clash, the police said.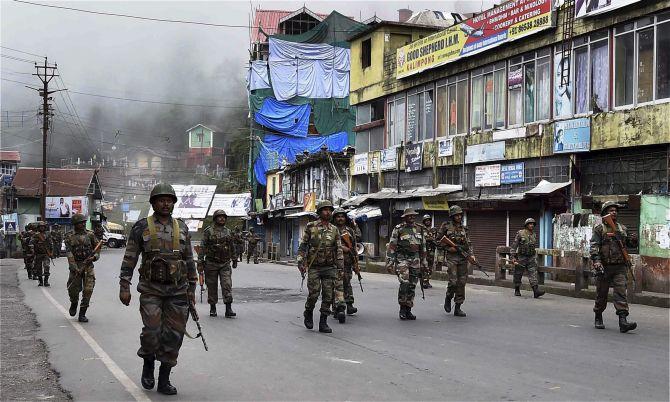 IMAGE: The slogan-shouting protesters threw stones and bottles at the police.
A large contingent of police and paramilitary personnel was rushed to the spot under the command of a superintendent of police and other senior IPS officers.
Barring pharmacies, all others shops and hotels were closed in Darjeeling. The GJM has called an indefinite shutdown in the hills.
Reacting to Saturday's violence, Tourism Minister Gautam Deb said, "The government will not accept the GJM's hooliganism."
GJM leaders said Vikram Rai, son of GJM MLA Amar Rai, was 'picked up' by the police from Darjeeling.
Vikram is the in-charge of the GJM's media cell.
The police last night raided the residence of senior GJM leader Binay Tamang, following which party activists tried to torch a PWD office in Bijanbari area in Darjeeling.
IMAGE: Gorkha Janmukti Morcha activists protest during a bandh called by the outfit in Darjeeling on Saturday. Photograph: Ashok Bhaumik/PTI Photo