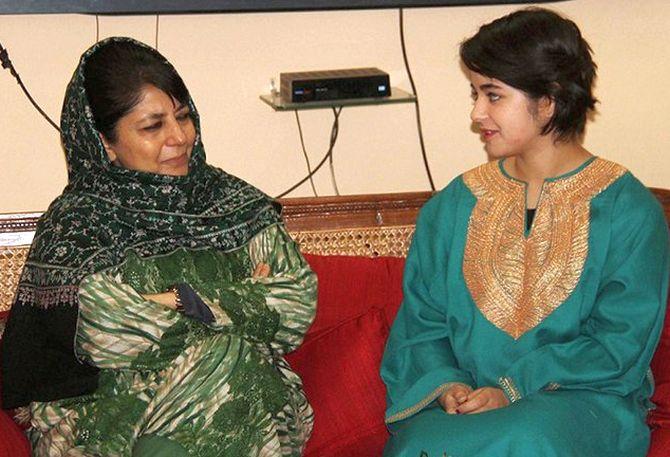 Zaira Wasim, the Kashmiri teen who shot to fame for her stellar role in Aamir Khan's blockbuster Dangal, was on Monday unwittingly caught up in controversy over her meeting with Chief Minister Mehbooba Mufti in the backdrop of the unrest in the Valley.
Zaira, 16, first posted an apology for "offending" and "unintentionally hurting" people after her meeting with Mehbooba kicked up a row and trolled online but later deleted the post. She then posted again, this time asking everyone not to blow the issue out of proportion but deleted this post too.
Zaira, who played the younger version of wrestler Geeta Phogat in Dangal, took to Facebook and tendered an apology apparently over her meeting with the chief minister on Saturday that drew sharp reactions from the youth in the Valley because of the situation there during the last few months.
She also played down her performance in Dangal, saying she was "not proud of" what she is doing.
"This is an open confession/apology. I know that many people have been offended and displeased by my recent actions or by the people I have recently met," the actress wrote on her Facebook page.
Zaira said she wanted to apologise to "all those people who I have unintentionally hurt and I want them to know that I understand their sentiments behind it especially considering that what had happened over the past six months" -- apparently referring to the unrest in the Valley which left 86 people dead and thousands injured.
"But I hope people can also understand there are certain circumstances that emerge which one cannot control and I hope people still remember that I'm a just a 16 year old girl and I hope you treat me accordingly. I'm sorry for what I did but it was not a deliberate decision and I really hope people can forgive me," she said.
Zaira also played down her projection as a role model for the youth of Kashmir, saying she does not want anyone to follow in her footsteps.
"There are few more things which are very important and I want to clear them as well. The first and foremost thing is that I am being projected as a role model for Kashmiri Youth. I want to make it very clear that I do not want anyone to follow in my footsteps or even consider me as a role model.
Zaira later removed her first post and came up with a new one, where she claimed that she has "not been forced into anything by anyone". She, however, deleted that too after sometime.
"Regarding my lst post, I have no idea why this has become such a big issues. I just wanted to make sure that I did not hurt anyone's feelings and all of a sudden it has been turned into national news. Again and again I am telling people that I have not been forced into anything by anyone," she had said in the second post.
Former chief minister Omar Abdullah said Zaira should not be forced to apologise.
"A 16 year old shouldn't be forced to apologise & that too allegedly for meeting @MehboobaMufti. What are we coming to!!!!!," he tweeted.
"I've a problem with @MehboobaMufti trying to usurp other peoples success to cover up her own failures but why punish/troll people she meets?," he added.
The Zaira issue also figured in the Jammu and Kashmir assembly when a Bharatiya Janata Party member claimed that the actress had received death threats.
"I have come to know from reliable people that the young girl of our state Zahira Wasim who played a beautiful role in Dangal movie and had recently met the state chief minister has received death threats" Ravinder Raina told the house while raising a "point of information" when the House was discussing the budget.
Winding up the discussion on motion of thanks on governor's address to Joint houses of Legislature, Mehbooba also referred to Zaira's "excellent role" in Dangal, and said, "our children are showing excellence in the fields of sports and others but unfortunately they don't get the due opportunity and appreciation".
The Phogat sisters and Olympian wrestlers -- Geeta and Babita -- too came out strongly in support of Wasim saying there was no need for her to apologise to anyone and that entire country stands by her at this hour when she needs everyone's support.
"I want to say that she needs not feel sorry for anything. She hasn't done anything wrong. Just like we have made our country proud by winning medals, she has done the same thing by playing my younger version in the movie. She did a lot of hard work for that role and she played it really well."
"Entire country is with her. I want to say to her family that don't be afraid about anything and just don't worry. Zaira should be strong at this time and her family too should strongly support her. We too got full support of our family, especially our father (Mahavir Phogat), during difficult times in life," Geeta said.
Babita backed Wasim saying the whole nation is with her.
"The entire country is with you, you need not worry about anything. We are all proud of her," she said.