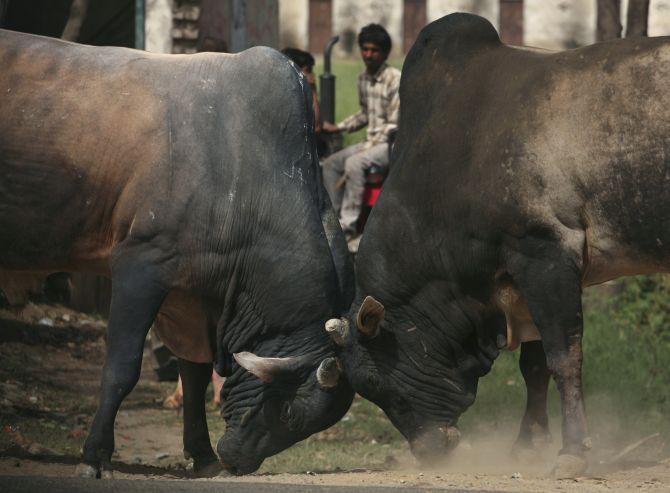 Prohibitory orders have been clamped and security stepped up in Bishada village in the wake of a proposed maha panchyat on Monday over the demand for the registration of an FIR against Mohammad Akhlaq's family for alleged cow slaughter nine months after he was lynched over rumour that his family had eaten beef.
District Magistrate of Gautam Budh Nagar NP Singh has clamped Section 144 CrPC and issued prohibitory orders banning gathering of five or more persons in the district after Bishada villagers in Dadri announced panchayat for Monday and additional security personnel have been deployed in the village, officials said.
Residents of Bishada village, include kin of the accused in the September 2015 Akhlaq lynching case, yesterday met the Gautam Budh Nagar SSP to press their demand for registration of an FIR against Akhlaq's family after a forensic report stated that the meat found in his house was that of "cow or its progeny".
Sanjay Rana, father of accused Vishal Rana, had threatened that a maha panchayat will be held in the village as police have failed to register an FIR against Akhlaq's
family.
"A complaint was filed with police after the forensic report said the meat in the freezer at Akhlaq's house was beef. No FIR has been filed yet in this regard," he said.
"The villagers have decided to hold a maha panchayat as police have failed to register an FIR based on our complaint. Residents of Satha Chaurasi village will also attend it," he claimed.
Vishwa Hindu Parishad leader Surindera Jain had on Sunday visited the village and claimed that the accused had been falsely implicated.
Meanwhile, Bharatiya Janata Party leader Vinay Katiyar supported the demand for registration of FIR against Akhlaq's family members and demanded that the compensation given to them be withdrawn.
"The question is that cow slaughter had taken place. The report has come and now FIR should be lodged against those involved in cow slaughter. Those who have been locked up in jail should be released. The compensation should be withdrawn. Government should take back the three houses given to them," the BJP leader said.
The Congress, meanwhile, criticised the statements of BJP leaders, saying it will vitiate the atmosphere.
"Calling for a maha panchayat and the statements being made after the forensic report came are not proper. Whether it is the Centre or the state government, it should be stopped," P L Punia said.
Image: Stray bulls fight on a roadside as a man watches in Dadri in Uttar Pradesh. Photograph: Parivartan Sharma/Reuters