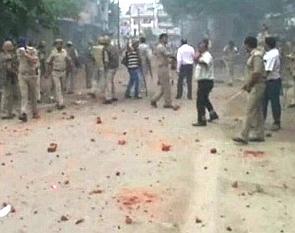 Violent clashes broke out on Saturday between two communities over a land dispute in Saharanpur, Uttar Pradesh, with the two sides indulging in brick batting and arson, leaving some persons injured and prompting authorities to impose curfew in the district.
Tension prevailed in the district and additional forces have been rushed to bring the situation under control.
"As per the information received so far there was a dispute over land between two communities which escalated in the morning," Additional Director General of Police (law and order) Mukul Goel told PTI. He said curfew has been clamped following the clashes.
The dispute escalated when members of one community started construction work at the site in Kutubsher area in the wee hours of Saturday, leading to violent clashes. Both the sides indulged in heavy brick batting, arson and opened fire and there were reports of several shops being gutted in the clash, police said.
In a bid to control the situation, police used force and fired rubber bullets.
Heavy force, including the police, Provincial Armed Constabulary, Rapid Action Force has been deployed in the area and paramilitary forces have also been called. "Injuries have been reported, but there is no report of any casualty so far," the ADG said.
Even as curfew has been clamped, sporadic incidents of clashes were reported and tension prevails. The ADG said senior officers were camping in the area.

Image: Security forces try to control in the mob in Saharanpur