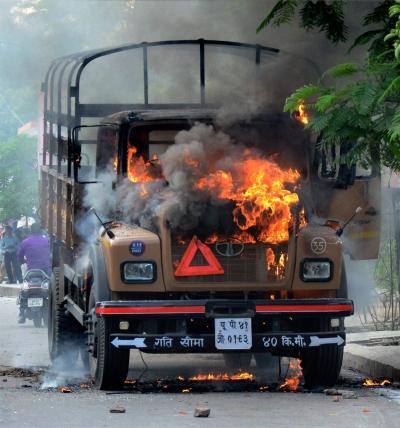 With the traditional proximity between Lucknow's Shias and the BJP being no secret, speculation is rife that the issue over which tension was heightened by the Shia community leader and cleric Maulana Kalbe Jawaad, was uncalled for at a time when the Id festival is just round the corner.
Jawaad had been quite vocal in assuring the Shia community's support to BJP during the last Lok Sabha elections. Even in the past, Shias of Lucknow were well known for extending all support to former Prime Minister Atal Behari Vajpayee, every time he contested the Lok Sabha election from there
It could therefore be no surprise if the instigation for sparking off trouble at this juncture came from the BJP, which has over the past one month, been doing its bit to train its guns at the Samajwadi Party.
The Shia community chose to go up in arms against the Akhilesh Yadav government, which was in the process of finalising the name of chairman of the UP Shia Central Waqf Board. Led by Jawaad, the protestors pointedly blamed UP Minorities Welfare Minister Azam Khan for picking up a former chairman Waseem Rizvi for yet another term, even though the man had been in major controversies.
Significantly, Khan has been the biggest eyesore for the BJP, which has never missed an opportunity to target him. According to sources in the government, Rizvi got his first term as the Waqf Board chairman with due patronage of none other than Jawaad. However, they fell apart on account of some issue between the two and this time Jawaad was hell-bent upon ensuring that Rizvi did not get a afresh term.
Jawaad, who does not see eye to eye with Khan, spewed venom against the minister while addressing a gathering after the traditional namaz on the last Friday of Ramzan which drew huge crowds. Sure enough, it was his design to use the large gathering of Shias, who easily got charged to march straight to the minister's house where they planned to stage a gherao.
The cops used all their might to stall the move. Therefore a clash was imminent, and once again, bringing Khan in the eye of the storm. "Azam Khan has decided to appoint Rizvi as chairman of the Waqf Board even though he is well-aware that this person had committed large scale financial irregularities during his last stint in the same position," Jawaad told mediapersons.
He claimed, "The sentiment of the Shias about this controversial person was repeatedly conveyed to the minister who was still bent upon giving the prestigious position to him; we therefore had no option to but to stage a protest." Lamenting over the lathi-charge, he alleged, "It was at Khan's behest that innocent, unarmed and silent protestors were thrashed by the police."
"One of the cops was beaten black and blue by the protesters, and he was hospitalised with grievous injuries," said a senior police official.
Image: A truck on fire during Shia Muslims' protest against UP Minister Mohd Azam Khan in Lucknow on Friday. Photograph: Nand Kumar/PTI Photo