An American, Russian and Italian lifted off atop a 400-foot golden flame into the night sky over Kazakhstan on Monday to begin a six month voyage of living and working aboard the International Space Station.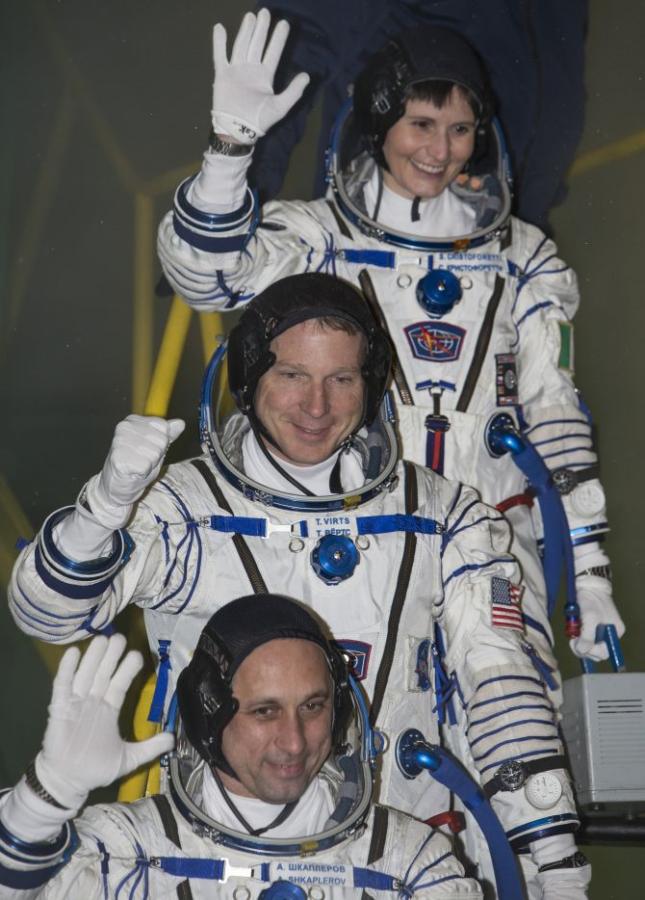 International Space Station crew members Samantha Cristoforetti of Italy, Terry Virts of the US and Anton Shkaplerov of Russia wave as they prep before their take-off. Photograph: Shamil Zhumatov/Reuters
The Soyuz capsule roared into the pre-dawn darkness from the Russian manned space facility in Baikonur, Kazakhstan.
The three-member crew consists of Russian cosmonaut Anton Shkaplerov, NASA's Terry W Virts and Italian astronaut Samantha Cristoforetti. The new station crew will perform a series of thruster burns in order to catch up with their port-of-call within six hours after launch during a quick rendezvous and docking flight.
The Soyuz TMA-15M spacecraft carrying the International Space Station crew lifts off from Baikonur cosmodrome. Photograph: Shamil Zhumatov/Reuters
The new crew of three will join the space station's current crew of NASA astronaut Barry Wilmore and Russian cosmonauts Alexander Samokutyaev and Elena Serova. Wilmore currently serves as the station's commander.
The Italian-born Cristoforetti is making her first trip into space. An astronaut with the European Space Agency, Cristoforetti is a captain and fighter pilot in the Italian Air Force. During a two-year academic stay in the United States in 1996, Cristoforetti attended SpaceCamp in Huntsville.
-- With inputs from Agencies