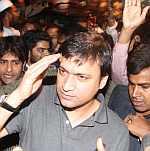 A local court on Friday allowed the petition of police to take the voice sample of jailed All India Majlis-e-Ittehadul Muslimeen legislator Akbaruddin Owaisi, who is facing sedition charges for his alleged 'hate speech' against a particular community.
The court of judicial first class magistrate in Nirmal town of Adilabad district, fixed February 5 as the date for recording the voice of Owaisi, which will be done in the open court in the presence of experts from the Forensic Science Laboratory.
The Nirmal police, who had arrested the MIM legislator from Gandhi hospital in Hyderabad on January 8, had earlier filed a petition in the court for the match test of his voice with that on videotapes of the alleged hate speech that the MIM leader is accused of delivering on December 22.
Now the FSL experts will be informed regarding the court orders who will conduct the voice tests, police said. The MLA, who represents Chandrayangutta constituency in Hyderabad, is facing the charges of sedition and waging war against the nation, among others.
He was booked suo motu by Nirmal and Nizamabad police and subsequently by Osmania University police in Hyderabad and Kadapa police for allegedly making the inflammatory speeches.
Owaisi, party's floor leader in the Andhra Pradesh assembly, is in judicial remand till January 22 and lodged in Adilabad District Jail. Meanwhile, he was taken to Rajiv Gandhi Institute of Medical Sciences hospital in Adilabad town on Friday night after he complained of internal pain.
Earlier on January 9, the MIM legislator's petition pleading to shift him into Chanchalguda prison in Hyderabad, from Adilabad district jail in view of his health condition was dismissed by the court.