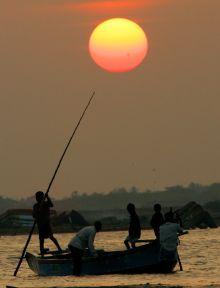 Country boat-owners in coastal Tamil Nadu are immensely upset over their non-representation in the talks over fishing with the Sri Lankan government, reports A Ganesh Nadar.
Indian fishermen regularly crossing the international boundary and entering Sri Lankan waters, then getting arrested, followed by Tamil Nadu Chief Minister J Jayalalithaa writing to Prime Minister Manmohan Singh and the fishermen getting released -- this has turned out to be a routine flow of incidents in the southern waters of the country.
To try and put an end to this regular conflict, the Sri Lankan government has invited the Tamil Nadu fishermen for talks in August.
The mechanised boat-owners have given a list of fishermen who will go to Sri Lanka for the negotiations. However, this has been resented by the country boat-owners.
"How can the Lankan government call only them when we face the same problems and outnumber them?" says S P Rayappan, president of the Ramanathapuram District Country Craft Fishermen Welfare Association.
According to the country boat-owners, the entire problem between the two governments was triggered by the mechanised boat-owners.
"They have nets that scrape the ocean bottom, leaving nothing for others. Their equipment damages the nets of Lankan fishermen. They are the troublemakers, but they are the ones being called. I am okay with them going, but we must go too," Rayappan points out.
"We have petitioned the district collector that we too want to be represented in the talks, but so far we have not received any response and it's already August 5," he complained.
"The central government does not permit fishing from April 14 to May 31 every year. This is the fish breeding season. Moreover, the actual fishing days for mechanised boats is only 136 days in a year. Out of this they want to be allowed to fish in Lankan waters for 78 days. The Lankan fishermen will be allowed into Indian waters for 58 days. This is the gist of their negotiation. It does not mention us at all and thus it is not fair," he noted.
It's barely 18 km from Dhanushkodi in Tamil Nadu to Sri Lanka, and thus the international boundary is fixed at 9 km from the shore. The fishermen reach there in an hour and cross over if their nets are still empty.
Experts feel that negotiations between Colombo and Indian fishermen will be incomplete if the country boat-owners in Tamil Nadu are not included.
Image: Fishermen row a boat at sunset in Nagapattinam
Photograph: Kamal Kishore/Reuters