The number of coronavirus patients in the country has risen to 74 with 14 fresh cases, including nine from Maharashtra and one each from Delhi, Ladakh, Uttar Pradesh and Andhra Pradesh as well as one foreign national, the Union health ministry said on Thursday.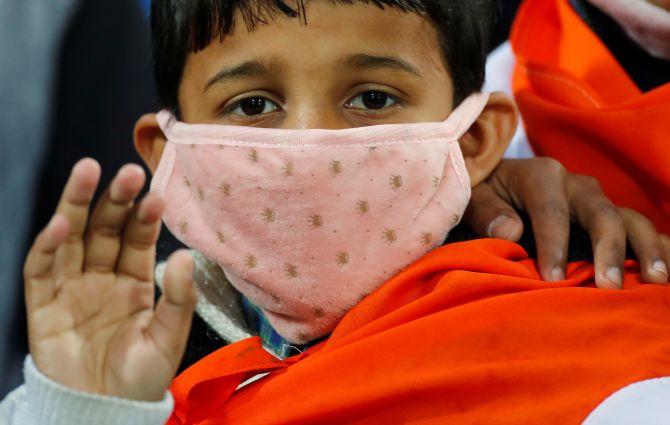 Giving a state-wise breakup, the ministry said Delhi reported six positive cases and Uttar Pradesh 10. Karnataka has four cases, Maharashtra 11 and Ladakh three.

Besides, Rajasthan, Telangana, Tamil Nadu, Jammu and Kashmir, Andhra Pradesh and Punjab have reported one case each. Kerala has recorded 17 cases, including three patients who were discharged last month after they recovered from the infection declared a global pandemic.
The total number of 74 confirmed cases includes 17 foreigners -- 16 Italian tourists and a Canadian, the ministry officials said.

As the contagious disease with flu-like symptoms spreads across the globe and was declared a pandemic by the World Health Organisation, the cabinet secretary has said states and Union Territories should invoke provisions of Section 2 of the Epidemic Diseases Act, 1897 so all advisories issued by the Union health ministry and state governments are enforceable.

An Indian team of doctors will leave for Italy on Thursday night to collect and bring swab samples of Indian students stranded there so that they can be tested before being brought back to the country, a health ministry official said.

Eighty-three evacuees from Italy who arrived in India on Wednesday have been housed at a quarantine facility in Manesar. All patients being treated in hospitals are reported to be stable, the officials said.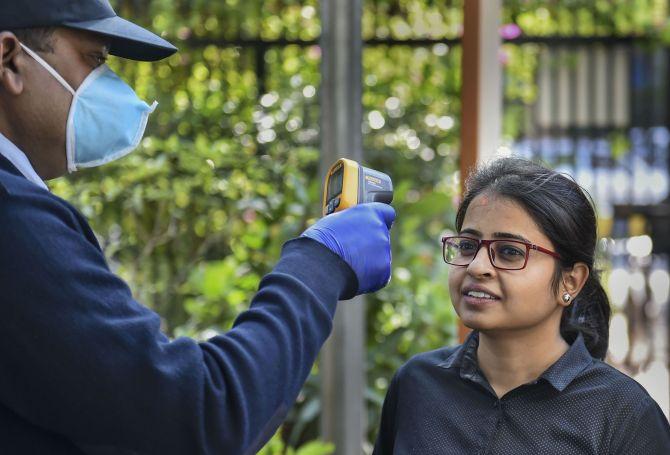 The ministry said the government is undertaking measures to ensure safety and security of its citizens in Iran after it became clear that the country was facing a COVID-19 outbreak.

Indian nationals in Iran include pilgrims, students and fishermen, it added.
On March 7, 108 samples were received from Iran. These samples are being tested at the AIIMS laboratory. Also, six scientists from the Indian Council of Medical Research are stationed in Iran and have so far collected swab samples of over 400 Indians stranded there.

"The first batch of 58 evacuees from Iran has arrived on March 10 with 25 men, 31 women and 2 children on board. All evacuees are asymptomatic at present," the ministry said.

India has evacuated 948 passengers from COVID-19 affected countries. Of these, 900 are Indian citizens and 48 from different countries, including Maldives, Myanmar, Bangladesh, China, USA, Madagascar, Sri Lanka, Nepal, South Africa and Peru, it said.

India has also suspended all visas, except a few categories such as diplomatic and employment, till April 15 in a bid to contain the coronavirus spread, according to a revised travel advisory.

The suspension will come into effect from 1200 GMT on March 13 at the port of departure.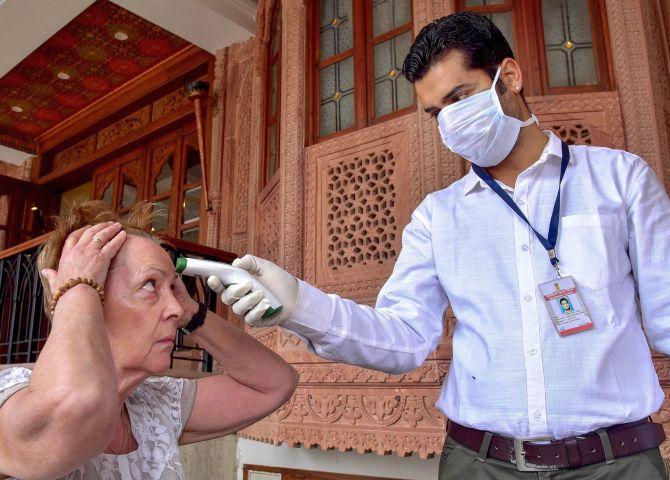 Advise Indians to stay put wherever they are, travel only under compelling reasons, says MEA
The government's focus is on containing and controlling coronavirus the ministry of external affairs said on Thursday and advised Indians to stay put wherever they are and travel only under compelling reasons.

Responding to questions about IPL and other sporting events, it said the MEA's advise would be "not do it at this time but if the organisers want to go ahead, it is their decision".

"The government's immediate concern is to contain and control coronavirus. There is no need to panic. We advise Indians to stay put wherever they are and only travel under compelling reasons," Dammu Ravi, Additional Secretary, MEA and Coordinator (COVID-19), said at a press conference.

"We have also not issued any guidelines to airlines to stop or reduce flights. It's a commercial decision, we leave it to them to decide," he added.

To questions about organising sporting events, he said, "Think it is for the organisers to decide whether to go ahead with it or not. Our advice would be to not do it at this time but if they want to go ahead, it is their decision."

MEA spokesperson Raveesh Kumar said the government has received requests from four countries for assistance in arranging protective gears.

"We have received requests from Bhutan, Iran, the Maldives, Italy for assistance with masks and protective gears. We are processing it. Earlier, such request was received from China, and a package was sent," he said.

Anil Malik, the additional secretary from ministry of home affairs, informed reporters that there has been a decline of 40 per cent in number of people travelling to India in the last 20 days.

"The number of people coming to India dropped by 40 per cent in the last 20 days, the number will come down further," he said.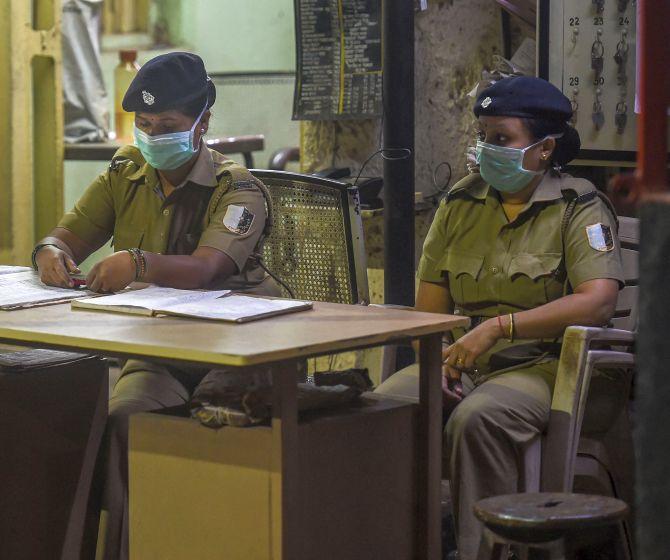 'Initial focus to bring back Indian pilgrims stranded in Iran'
Speaking in Rajya Sabha, external affairs minister S Jaishankar said coronavirus outbreak is a matter of "great concern" and the government's initial focus is to bring back Indian pilgrims stranded in Iran.
Speaking on the situation arising out of the spread of the coronavirus, he said around 6,000 Indians are stranded in Iran, including 1,100 pilgrims from Maharashtra and Jammu and Kashmir.
There are also around 300 students there, he added.
The "initial focus is on bringing back pilgrims, mostly stranded in Qom", he said, adding 58 citizens from Iran has been brought back and the government was working with Iranian authorities to operate some limited commercial flights for facilitating early return of the remaining Indians after testing them.
The minister also informed that there are 1,000 Indian fishermen who are stranded in Iran, but they are in the region which is not affected by the virus.
He said a team of health professionals has been sent to Iran to set up testing facilities there for Indians.
Talking about Italy, Jaishankar said the situation in the European country is a matter of great concern. Those tested negative will be allowed to return.
The minister said about 90 countries have reported coronavirus cases and the government has to focus and to prioritise.
At the moment after China and Diamond Princess (cruise ship) issue, Iran and Italy are an extreme situation.
Detailing steps being taken by the government to bring back Indians from COVID-19 affected nations, he also apprised the House that both countries have stretched their resources in dealing with the situation post spread of the coronavirus.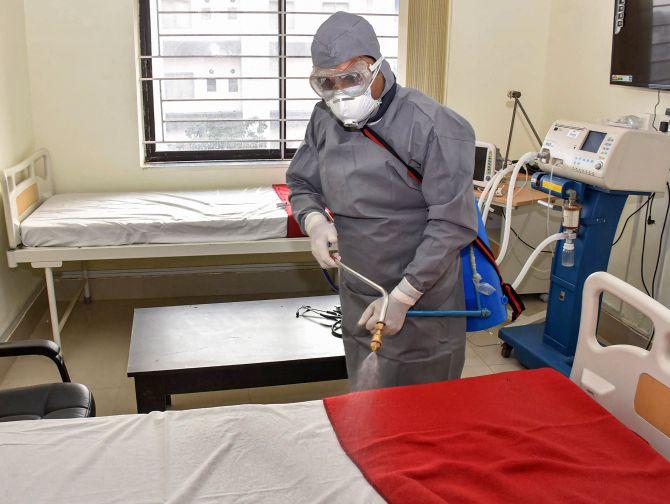 "The House will surely appreciate that few other nations have done what we have with respect to the COVID -19," he said.
"The global coronavirus situation is being monitored on a continuous basis by a Group of Secretaries headed by Cabinet Secretary and a Group of Ministers, chaired by Minister of Health and Family Welfare," Jaishankar said.
Besides taking steps to check the spread of the virus in the country, the government has ensured that e-visas and visa on arrival are temporarily suspended in certain cases.
Precautionary measures are also being taken on all land borders as well as air and sea entry points.
"As a country whose citizens are spread across the world. This is matter of great concern for us. But we have to act responsibly and soberly to address the situation and not create panic," he said.
Passengers from 15 nations not allowed to enter Delhi airport duty-free shopping area
Indian customs has barred passengers arriving from 15 nations, including China, the US, Italy and South Korea, from entering duty-free shopping area at the Delhi airport in wake of the coronavirus pandemic.
With the government already cancelling visas with effect from March 13, this would mean that even Indian nationals returning home from these 15 countries will not be allowed to enter the Delhi duty-free shopping area.
The Commissioner of Customs at the Indira Gandhi International Airport, Delhi, in a notice, said the ban has been put in place "in view of the threat from COVID-19 virus".
Passengers arriving on flights from China, the US, Italy and South Korea, Iran, Japan, Malaysia, Hong Kong, Singapore, Indonesia, Spain, France, Vietnam, Nepal and Thailand will not be able to enter the duty free shopping area due to operational limitations till further orders, it said.
Rashtrapti Bhavan closes all public tour visits from Friday

Rashtrapati Bhavan has closed all public tour visits from Friday as a precautionary measure against the spread of coronavirus, official spokesman said on Thursday.

A brief statement released by the spokesman said the presidential house will remain closed for exploratory tour visit from Friday till further orders.

"Moreover, the Rashtrapati Bhavan Museum Complex and the Change of Guard ceremony will not be open to public till further notice," the spokesman said.