R Rajagopalan reveals the government's thinking on relaxing the national lockdown.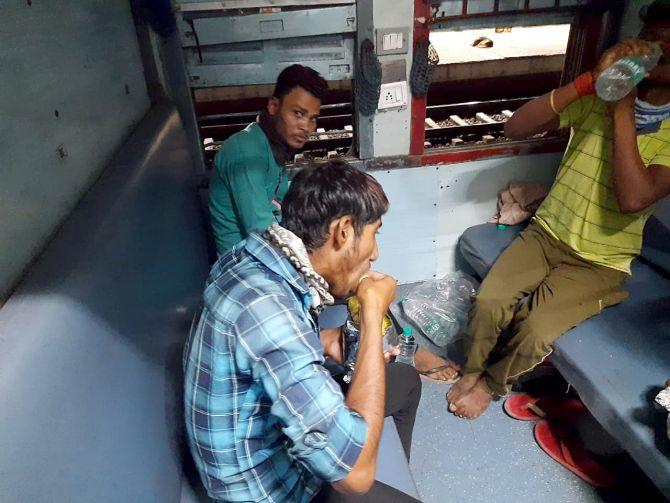 Trains have started to run once again in India after more than a month, although it is only to transport migrant workers to their home states and evacuate those stranded in the country.
On Friday, appropriately Labour Day, the railways deployed the first special train to ferry stranded migrant workers from Telangana to Jharkhand.
National highways have reopened, but only to allow special buses for migrants to ply.
The big question is now that the national, extended, lockdown announced by Prime Minister Narendra Damodardas Modi has been extended by another two weeks, when will full normalcy return to the country?
Government sources, while claiming that 55 percent of normalcy has so far been restored in India, said the fear of increasing coronavirus cases over the metropolises still looms large, which is why the government is easing the more crucial restrictions phase by phase, zone-wise, and not at one go.
Maharashtra Chief Minister Uddhav Thackeray too announced on Friday that the lockdown in the state will be eased zone-wise after May 3.
However, it is not like the lockdown will be lifted at one go on May 18.
Officials said it will be done gradually, keeping the ground situation in mind, and expect the restrictions to be eased slowly between May 18 and 31.
On Saturday, Prime Minister Modi is expected to draw up plans to reopen places of worship in a graded manner complete with a physical distancing protocol.
A final decision is expected by Sunday, after which the ministry of home affairs is likely to direct state governments in this regard.
Domestic flights on metro routes are likely to resume from May 18 onwards, sources said.
According to an internal assessment, Air India will be the first to fly, and Indigo will follow two days later, on May 20.
Three days later, Vistara will take to the skies, followed by other airlines. The flights will be phased to ensure that airports are not crowded, with enough restrictions in place to ensure that physical distancing will be strictly adhered to.
International flights to select nations are expected to resume by June 1.
State governments will be empowered to open up malls and wedding halls in a gradual manner.
The Centre expects that if all this gradual easing up does not result in a second wave of coronavirus positive patients, by early July 100% normalcy will be returned in the country.
Prime Minister Modi met ministers on Friday morning to firm up a post-lockdown strategy. Home Minister Amit Anilchandra Shah, Railway Minister Piyush Goyal and Aviation Minister Hardeep Puri were among those who attended the meeting.
This was preceded by another, 'comprehensive' meeting the prime minister held on Thursday to discuss strategies to boost the economy, with an eye on enhancing investments.