China on Thursday unveiled a new trial protocol warranting re-testing of the recovered coronavirus patients besides intensifying the screening of asymptomatic cases as concerns grew over the second wave of virus infections in the country.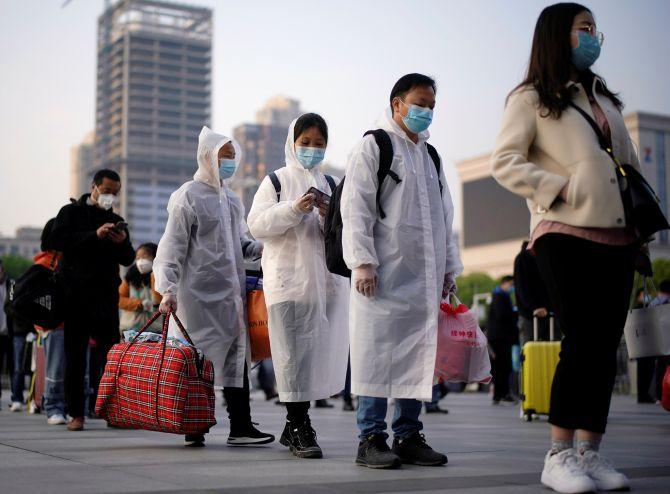 The move comes a day after China lifted the 76-day lockdown in Wuhan, where the pandemic originated.
China's National Health Commission (NHC) on Thursday reported 63 new confirmed cases of the coronavirus, including 61 imported ones taking the total to 1,104 cases.
Two more persons were killed due to the disease, taking the death toll in the country to 3,335. The overall coronavirus cases have reached 81,865 in the country.
After nearly three months of grim battle against the coronavirus, China is fast returning to normalcy with factories and business humming back to activity amid concerns over coronavirus rebound due to a steady rise of new infections, especially coming from thousands of Chinese returning from abroad.
As the 76-day lockdown of Wuhan was lifted on Wednesday, tens of thousands of people in the city, the origin point and epicentre for the coronavirus pandemic, began travelling out by road, rail and air.
China on Thursday released a new trial protocol on recovered COVID-19 patients' quarantine which included return visits by doctors, re-testing and their health monitoring.
As of Wednesday, China has 77,370 people who had been discharged after recovery, most of them were from Wuhan and Hubei province which bore the brunt of the virus.
According to the protocol, recovered Covid-19 patients should stay in quarantine for 14 days either at home or in an isolation centre for medical observation, the state-run Xinhua news agency reported.
During the isolation period, those having recovered from the disease should take their temperatures daily and be on the lookout for fever and respiratory symptoms including cough and breathing difficulties, the protocol said.
Designated hospitals should make plans for patients' return visits and re-testing for the next two to four weeks following their discharge, it said, adding that sputum samples are more reliable and should be the first choice for re-testing.
Those who have been discharged from hospitals will be categorised as confirmed cases if they test positive, show symptoms including fever and cough, and CT scan results show their lung conditions have worsened. In such cases, the patients should be hospitalised for further treatment, the protocol said.
A high-powered committee headed by Chinese Premier Li Keqiang which was leading the efforts to contain the virus since January has also called for intensified detection and prompt response to asymptomatic case meaning people infected with coronavirus but showed no symptoms.
As of Wednesday, a total of 1,104 asymptomatic cases, including 364 imported from abroad, were under medical observation on the Chinese mainland, the NHC said.
Asymptomatic cases refer to people who are tested positive for the coronavirus but develop no symptoms such as fever, cough or sore throat an official circular said noting that they are infectious and pose a risk of spreading to others.
Screening of asymptomatic infections should be stepped up, targeting close contacts of confirmed patients, people involved in cluster outbreaks, those exposed to Covid-19 and travellers from areas with high risks of infections, it said.
The regulation required nationwide hospitals and disease control departments to take prompt actions once asymptomatic carriers are detected.
Once verified, asymptomatic carriers will be put under concentrated medical observation for 14 days and can only be released from quarantine upon two consecutive negative nucleic acid test results, with a sampling interval of more than 24 hours, it added.
Close contacts of asymptomatic cases should also be put under concentrated medical observation for 14 days.
Since April 1, the NHC has started to incorporate information on asymptomatic cases in its daily report to timely respond to social concerns.
China also denied any cover-up in reporting the initial information of the outbreak in December last as it put up a staunch defence of World Health Organisation chief Tedros Adhanom Ghebreyesus, refuting United States President Donald Trump's allegation that he was 'very China centric'.
"China was the first country to report the COVID-19 to the World Health Organisation (WHO), (and) that doesn't mean the virus originated from Wuhan," Foreign Ministry spokesman Zhao Lijian told a media briefing here, dismissing US Secretary of State Mike Pompeo's charge of China hiding the COVID-19 data.
"Epidemic may break out first anywhere in the world. But its origin is a matter of science and we should leave it to science and medical community," said Zhao, who earlier created a storm by alleging on March 12 that the US Army may have brought the virus to Wuhan, leading to a diplomatic protest by Washington.
While he didn't revisit his allegation, Zhao, in a detailed reply to Pompeo's charge, referred to Wuhan lifting its 76-day lockdown on Wednesday which, he said, boosted the confidence of other countries.
"More and more people have come to realise that Chinese solution is viable and Chinese experience is of great value. Any responsible country will stand firmly against labelling the virus," he said.
In an official timeline of the coronavirus released on April 6, China said the novel coronavirus was first detected in Wuhan in 'late December 2019' where the infection was listed as 'pneumonia of unknown cause', but skirted the key question about its origin.
Wild animals sold in the Huanan Seafood Market in China's Wuhan city are believed to be the source of the novel coronavirus pandemic that has claimed nearly 90,000 lives worldwide so far.
"Accusation of China covered up the epidemic and lack of transparency is groundless," Zhao said, adding that China had informed WHO of the genetic sequence of the virus which was used by American labs in their efforts to develop a vaccine.
A US specialist was also part of the WHO team which visited Wuhan.
To another question about local officials in Wuhan concealing the information and not acting in time to contain the virus, Zhao said, "As to the initial stage of the outbreak, it is a new virus. There is a process before we can get to know it fully, there is no such thing as (cover-up) as you claimed."
'The US had open access to information and data' on the virus, he said, referring to Chinese research group publishing the details.
"So, China has done what we should and could do. As to whether the US made good use of the precious time we bought, the information we provided and whether it took effective preventive control measures, we believe history will give a fair judgement," he said.
"Stigmatising China will prove deeply to unpopular. Virus respects no borders," he said.
Zhao also refuted Trump's allegation of the WHO chief being 'very China centric', saying the UN health agency under his leadership has 'fulfilled its due role and upheld a science-based objective and played an important role in helping countries to fight the virus and coordinating international cooperation'.
Besides the UN, many countries have spoken openly to endorse WHO and its call for greater cooperation in the world, he said.
The G20 Summit released a statement stressing full support and committing further support for WHO in coordinating the international response, he said.
"China will continue to support WHO in playing a leading role to control the pandemic," he said.
About Trump's threat to withhold US funding to WHO, Zhao said on Wednesday that 'as the COVID-19 spreads rapidly across the world, the US putting a hold on its funding to WHO will seriously undermine the organisation's normal functioning as well as international anti-pandemic cooperation'.
"We hope countries can work together, help each other amid difficulties and jointly contribute to the global fight against the coronavirus," he said.
President Trump threatened to put a "very powerful" hold on US' funding to the WHO, accusing the UN agency of being 'very China centric' and criticising it for having "missed the call" in its response to the coronavirus pandemic.
The Geneva-headquartered agency receives vast amounts of money from the United States.