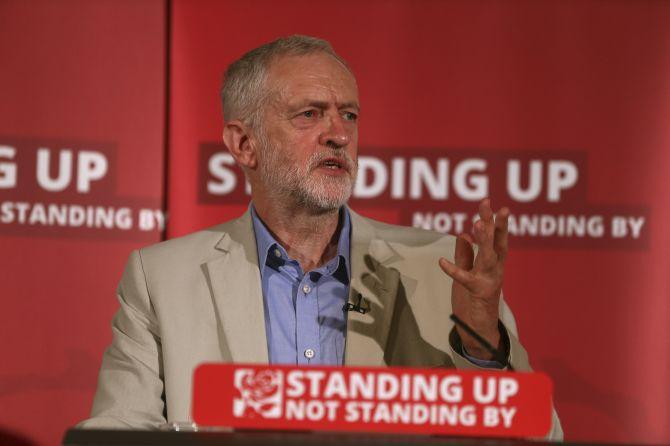 Unfazed by an attempted coup within his shadow cabinet, Britain's Opposition Labour party leader Jeremy Corbyn on Monday started replacing 16 ministers who have resigned over his handling of the EU referendum campaign.
Corbyn has insisted that he would not give up his job even as four more members of his shadow cabinet stepped down on Monday, taking the number of those resigned to 16, including Indian-origin shadow minister to the Treasury Seema Malhotra.
The 67-year-old leader had lost 12 members of his shadow cabinet on Sunday and four on Monday, with most criticising his performance in the European Union referendum, which resulted in Brexit.
But he said in a statement that while he regretted the resignations, he was determined to stand again if any new leadership election is forced.
"I regret there have been resignations today from my shadow cabinet. But I am not going to betray the trust of those who voted for me - or the millions of supporters across the country who need Labour to represent them," he said.
"One clear message from last Thursday's vote is that millions of people feel shut out of a political and economic system that has let them down and scarred our country with grotesque levels of inequality," he added.
The latest frontbench resignations came today, by shadow foreign minister Diana Johnson, shadow civil society minister Anna Turley, shadow defence minister Toby Perkins and Wayne David, shadow Cabinet Office, Scotland and justice minister.
Stephen Kinnock, a parliamentary aide to shadow business secretary Angela Eagle, has also quit, citing Corbyn's 'half-hearted and lacklustre role' in the EU campaign.
The motion of no confidence in Corbyn was submitted by Labour MPs Dame Margaret Hodge and Ann Coffey and a secret ballot could be held on Tuesday.
Corbyn has previously warned: "Those who want to change Labour's leadership will have to stand in a democratic election, in which I will be a candidate."
The hostilities in the Labour Party broke out following the sacking of shadow foreign secretary Hilary Benn on Sunday, after he told Corbyn he had lost confidence in him.
Former shadow leader of the Commons Chris Bryant, who was among those to resign, warned Corbyn that he risks going down in history as 'the man who broke the Labour Party'.
The Labour Party campaigned for Remain during the referendum, which saw the United Kingdom voting to leave the EU by 52-48 per cent last week. But Corbyn, a long-standing critic of the EU, has been accused by some in his party of not making the case for the EU forcefully enough due to his personal views.
Meanwhile, a number of senior trade unionists on Labour's ruling national executive committee rallied in support of Corbyn. About 180,000 people have signed an online petition backing the Labour leader, who was elected last September in a landslide victory.
IMAGE: Labour Party leader Jeremy Corbyn speaks on immigration and moving on after the EU referendum, in central London, Britain. Photograph: Neil Hall/Reuters