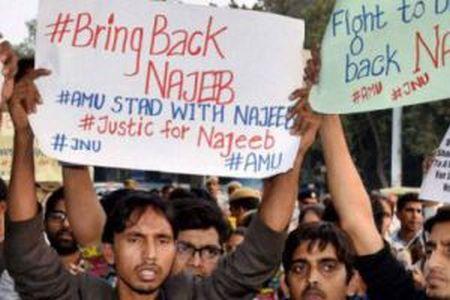 Delhi Police on Wednesday claimed to have traced the auto driver who ferried Najeeb Ahmed from Jawaharlal Nehru University the day he went missing, even as it raised the reward from Rs 2 lakh to Rs 5 lakh for anyone providing information that could help locate the missing student.
The Delhi Police's Crime Branch team investigating the case said that the auto driver told them he had dropped Najeeb to Jamia Millia Islamia.
"We have been able to trace the movement of Najeeb on October 15, the day he went missing. He took an auto from JNU and reached Jamia Millia Islamia campus. He had taken the auto himself and wasn't accompanied by anyone," said a senior police officer.
The police is now trying to find out whether Najeeb had any friend in Jamia whom he had gone to meet, sources said.
The Crime Branch also spoke with Najeeb's family today and apprised them of the status of investigation.
Earlier in the day, Delhi Police Commissioner Alok Kumar Verma approved the increase in the reward amount from Rs 2 lakh to Rs 5 lakh.
Initially, the reward amount was Rs 50,000 but later on, it was increased to Rs 1 lakh and subsequently to Rs 2 lakh last month. Verma today raised the amount to Rs 5 lakh, said a senior police officer.
The team, which is investigating the matter, has started from scratch and is re-looking at all the clues and evidence, the officer said.
Najeeb has gone missing on October 15 following an on-campus scuffle allegedly with Akhil Bharatiya Vidyarthi Parishad members the night before.
The SIT, headed by Additional Deputy Commissioner of Police II (South) Manishi Chandra, could not to gain any actionable clue in the matter.
The SIT was focusing on psychiatric angle in the probe after it was learnt that Najeeb was suffering from Obsessive Compulsive Disorder with depression.
The team was also mulling to seek help of psychiatrists from AIIMS or RML to chalk out a plan for investigation.
However, the Crime Branch is now investigating all probable angles rather than focusing on any one perspective, sources said.
While the case was being investigated by the SIT, teams were sent to Darbhanga in Bihar and Nepal after they got leads hinting that Najeeb might be there, but they could not find him.