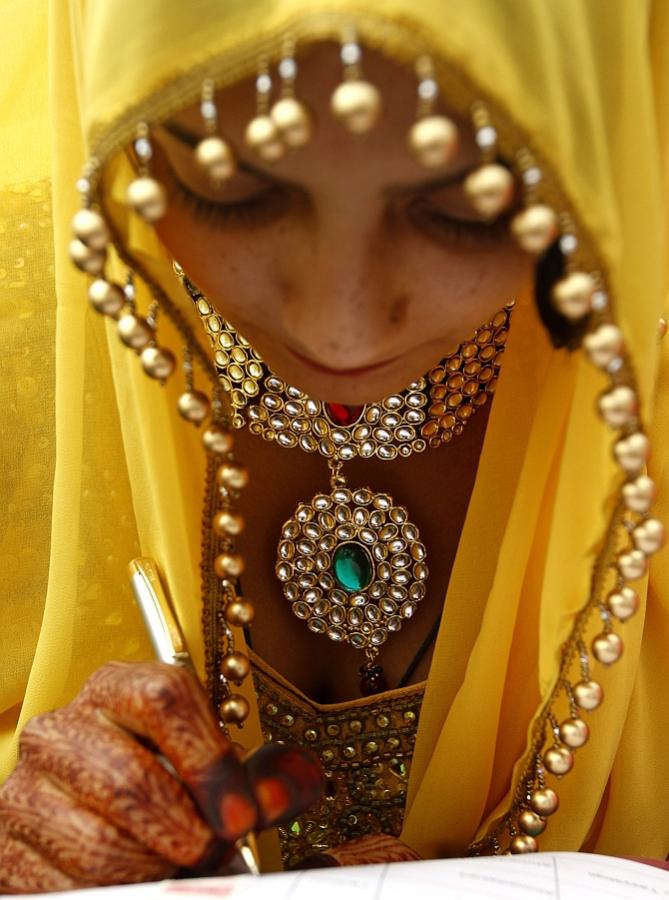 In a significant judgment, the Allahabad high court has ruled that the religious conversion of girls "without their faith and belief in Islam" and "solely for the purpose of marriage" to Muslim boys could not be held valid.
Justice Surya Prakash Kesarwani passed the order while dismissing a batch of petitions filed by five couples, hailing from different districts of Uttar Pradesh, who had sought "protection as married couple".
In each case, the boys were Muslim while the girls were Hindus who got converted to Islam for solemnising "nikah".
In his order earlier this week, Justice Kesarwani quoted a Supreme Court order of 2000 wherein it was laid down that "conversion of religion of a non-Muslim without any real change of belief in Islam and only for the purpose of marriage is void".
"These marriages are against the mandate in Sura II Ayat 221 of the Holy Quran", the court remarked while quoting an English translation of the relevant verses of the Holy Book: "Do not marry unbelieving women until they believe.....Nor marry your girls to unbelievers until they believe."
"The petitioner girls have stated that they do not know about Islam. In the writ petitions as well as in the statements on oath made before this court, the petitioner girls have not stated that they have any real faith and belief in the unity of God...They all stated that the boys got their religion converted with sole purpose to marry them," the court noted.
"In case of a religious conversion, there should be a change of heart and honest conviction in the tenets of new religions in lieu of tenets of the original religion," the court observed, adding that if conversion was resorted to "achieve an object without faith and belief in the unity of God (Allah) and Mohamed to be his prophet, the conversion shall not be bona fide.
The court concurred with state government's submission that the petitioners were "not entitled to protection as married couple" since "conversion from Hinduism to Islam and that too at the instance of the boy in each of the writ petitions is not permissible even as per Muslim Personal Law".
The petitions, filed separately and at different points of time, were clubbed together and disposed of by the court vide the aforesaid judgment.

Image: Representation pic