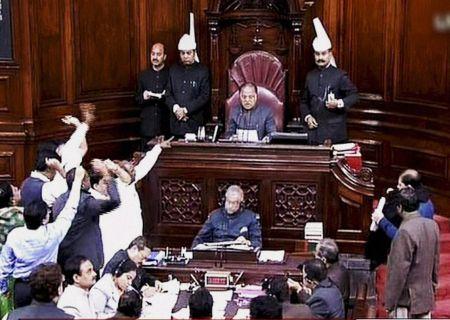 Proceedings of the Rajya Sabha were washed out on Monday with a united opposition creating uproar over conversions and pressing for an assurance by Prime Minister Narendra Modi that such acts would not be allowed.
The Rajya Sabha and the Lok Sabha also saw disruptions over a reported circular that schools should remain open on Christmas before the government clarified that there was no order but only an online essay competition, which is voluntary in nature.
In the Upper House, the opposition first vociferously pressed for an urgent discussion on conversions and when it was agreed to, it demanded that Prime Minister Narendra Modi should be present and give a reply to the debate.
The government, on the other hand, insisted that the reply will be given by the home minister, leading to a deadlock because of which the House was adjourned for the day at 3 pm, after four adjournments.
Finance Minister and Leader of the House Arun Jaitley said the government was ready for debate on any issue as he asked Opposition if it wanted "total ban on religious conversion or forced conversion", either of which was acceptable to the government.
Opposition unitedly voiced concern over reports of conversion in Agra recently and wanted no less than the prime minister himself to assure the House and the country that such things would not be allowed.
Members from parties like Congress, Left and Trinamool Congress said the issue was serious as it will hurt the secular fabric of the country and only the PM should reply. They were in the Well shouting slogans, "Pradhanmantri jawab do-jawab do" and "stop conversion".
Deputy Chairman P J Kurein said he cannot ask the government which particular minister or the PM should reply.
He noted the home minister was sitting in the House and ready to reply. "Do you think he (Home Minister) is not competent to reply," Kurein asked the Opposition.
Attacking the Opposition, Jaitley said it was only interested in distraction and not the debate. "In the morning they wanted suspension of agenda to discuss this issue, we agreed...some people only want to disrupt the House," Jaitley said.
Sharad Yadav from the Janata Dal-United demanded to know as to what action the government was taking. "Keeping MPs (of your party) in check is in your hand. Till the PM takes strict action, nothing will happen. Your party people are doing this."
To this, Minister of Parliamentary Affairs Venkaiah Naidu said, "In our party, we will decide what a member will do... Government will take appropriate action, no one should worry about this."
Deputy Leader of Congress Anand Sharma, Sitaram Yechury from the Communist Party of India-Marxist, Derek O'Brien from the Trinamool Congress, D Raja from the Communist Party of India and other members joined in their demand to call the prime minister.
Anand Sharma said conversion was being done in an organised way which was a serious issue. He demanded that the PM should assure the House and country that these things will not happen.
Yechury said there was no meaning of a discussion until the PM himself gives assurance. "We are not a talking shop...we want assurance of action," he said.
Kurein said that in Parliamentary democracy, debate and discussions should lead to solution. He said the issue pertains to the ministry of home affairs and hence Rajnath Singh can reply.
Amid the din External Affairs Minister Sushma Swaraj laid a statement on United Nations's decision to celebrate June 21 as International Day of Yoga while Home Minister Rajnath Singh made a suo motu statement on Bengaluru-based executive Mehdi Masroor Biswas, running a pro-ISIS Twitter.
The opposition members protested laying of statements while Minister of State for Parliamentary Affairs Mukhtar Abbas Naqvi remarked, "What is the logic of disturbance when the government is ready for a discussion. It is unfortunate."
Image: Members of the Rajya Sabha demanding that the prime minister makes a statement and assures them that such conversions won't take place. Photograph: PTI photo