Former minister and five-time MLA UT Khader on Tuesday filed his nomination as Congress candidate for the post of Speaker of Karnataka legislative assembly.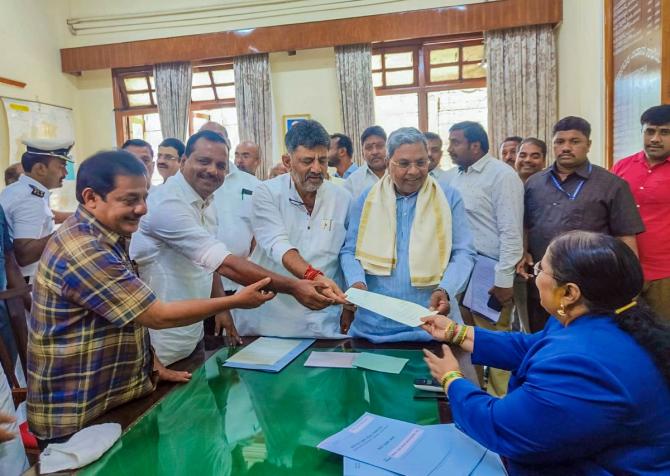 Khader, an MLA from Mangaluru assembly segment, filed his nomination at the office of assembly secretary, in the presence of Chief Minister Siddaramaiah, deputy Chief Minister DK Shivakumar, minister BZ Zameer Ahmed Khan and other Congress leaders.
Election to the post of speaker is scheduled for Wednesday.
As per convention, the ruling party's nominee is generally elected unanimously as the speaker.
If elected to the post, 53-year-old Khader will be the first Muslim leader to serve as speaker of Karnataka assembly.
Khader had served as deputy leader of Opposition in the previous assembly and had also served as a minister in the past.
According to Congress sources, several senior legislators wanting to become ministers did not wish to take up the responsibility of the speaker, following which the party leadership convinced Khader to file his papers.
Speaking to reporters after filing the nomination, Siddaramaiah said the party chose Khader for the post of speaker in consultation with the high command and he has accepted it.
"I have proposed his name, DK Shivakumar as deputy chief minister has seconded it, and the nomination has been filed," he said.
Shivakumar said Khader may be young in age, but he is a senior and experienced MLA.
"We requested him, and he has gracefully accepted the Speaker nomination for the party."
Khader said the Congress high command has directed him to take up the "constitutional and respected" role of the Speaker, and he has accepted it wholeheartedly.
"I will work to bring more respect to the respected post...everyone can become a minister, but everyone cannot become a Speaker. I have worked for six-and-half years as minister in the past and also as Deputy Leader of Opposition. I feel this is a huge opportunity, and will work to run the House with honesty and transparency to serve the people, taking everyone together," he said.
To a question on whether he fears for his political future looking at the list of Speakers who have lost the subsequent polls, Khader said: "It's a superstitious belief, and I will prove it wrong with the grace of God and blessings of people of my constituency."
BJP's Vishweshwar Hegde Kageri, who was speaker in the previous assembly, lost the election from Sirsi seat.