'But unlike Punjab, the rebels have an alternative -- the BJP'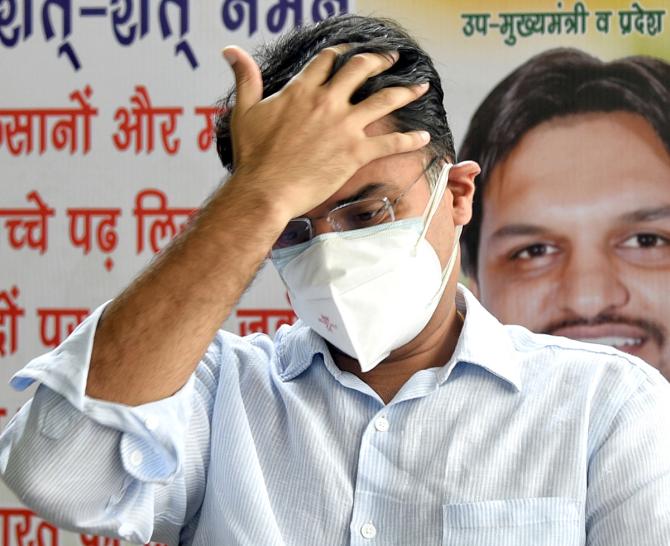 After Punjab, it is the turn of Rajasthan. As the Congress looked inwards and embarked on housekeeping to avert dissidence, party general secretary in charge of Rajasthan, Ajay Maken, was in Jaipur recently to meet around 100 MLAs, out of the Congress's 115, amid heavy hints by former deputy chief minister Sachin Pilot -- who rebelled and nearly walked out of the Congress last year with 18 supporters -- that he would erupt again if his concerns were not addressed.
A Cabinet reshuffle in Rajasthan's Congress government led by Ashok Gehlot is due in the first fortnight of August.
After the changes in Punjab (about which the last word has not been said), Rajasthan has been clamouring for attention. For almost a year since he resigned from the position of deputy chief minister, Pilot has been asking the party leadership to pay attention to the problems he and others are facing in the state.
One of his supporters, Hemaram Choudhry, resigned from the assembly in May this year, with the rebels insistently asking for a place in the sun. Choudhry isn't a nobody -- he has been an MLA six times. He is 73 and wants to become a minister.
The Congress MLA from Chaksu, Ved Prakash Solanki, has also threatened to resign if the grievances of his workers are not heard and demands for works in his constituency are not met. Solanki said: "The bureaucracy is dominating the affairs of the government. In such a situation, we are finding it difficult to get works in our constituencies done or the grievances of our workers dealt with."
After his dramatic rebellion in July last year, and an equally dramatic return, Pilot's grouses have only multiplied. He feels that not only has he not been rewarded for his hard work, but the threat of his exit has also been used against his supporters. None of those who lost their jobs when he rebelled has been reinstated.
"Don't return my deputy chief ministership. But don't take it out on those who only sought justice against the high-handedness of Ashok Gehlot," he confided to friends.
Maken announced during his visit that "there are people who are eager to leave government positions and work for the organisation. We are proud of such people." He added: "The Congress will form the government again in 2023 with our members, who are ready to leave everything and work together with the organisation."
If the response to this bracing exhortation has been unenthusiastic, it is hardly surprising. The cleavage between Gehlot and Pilot is deep. Pilot skipped the dinner thrown by Gehlot for MLAs at his residence. He also skipped the meeting of Tonk district legislators with Maken, despite being a legislator from there.
Those who have seen Pilot work says he is indefatigable: The Ajmer Lok Sabha by-election (2018) was an example. He lost his own Lok Sabha election in 2014 (from Ajmer, incidentally) and was not confident of winning in 2018, agreeing to field Raghu Sharma. But he worked as hard for subsequent polls, no matter how small.
"He would slog it out by meeting people, establishing contact, and listening to people all the time. The Congress won panchayat and local body elections, small and big. The credit for these victories should also go to Pilot," said an aide.
However, his critics say his record of winning elections is not quite as stellar as he would like people to believe. In the assembly elections in 2018, 12 Congress candidates had to forfeit their deposit and 17 were in the third position. As PCC chief from 2014, Pilot was unable to persuade rebels to stand down and 11 rebels defeated official Congress candidates -- and critics say the sheen of the Congress victory in the assembly was dimmed by the fact that at least 40 seats were 'just spoiled'.
Gehlot does not hold back from reminding everyone of this. His supporters argue that he is the real people man, not Pilot. But there are problems, as Maken unwittingly confessed. After he met with MLAs, he said: "We mainly discussed how we can bring back a Congress government in 2023. In the state executive meeting also, we discussed that there should be better coordination between the government and the organisation so that together we can bring the Congress back to power."
The central Congress reckons most of the problems can be sorted out if the organisation can be controlled. State unit president Govind Singh Dotasra was appointed after Pilot's rebellion in a bid to tone up the organisation.
However, like Amrinder Singh in Punjab, in Rajasthan too, Gehlot baulks at ceding control. The reshuffle will likely be one step to bringing him back in the line.
"But unlike Punjab, the rebels have an alternative -- the BJP," said an analyst.