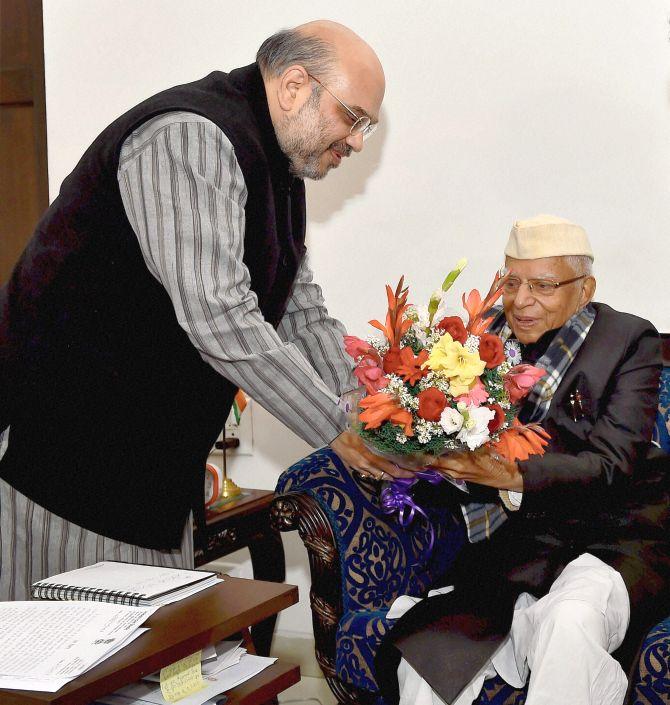 IMAGE: BJP National President Amit Shah greets former Uttarakhand and Uttar Pradesh chief minister Narayan Dutt Tiwari in New Delhi. Photographs: Kamal Singh/PTI Photo
In a blow to the Congress, its veteran leader and former chief minister of Uttarakhand Narayan Dutt Tiwari on Wednesday extended his support to the Bharatiya Janata Party in the poll-bound state during a meeting with its president Amit Shah.
Tiwari, also a former Uttar Pradesh chief minister, was joined by his son Rohit Shekhar Tiwari, who has been looking to establish himself politically, and wife Ujjwala Tiwari.
Though the 91-year-old leader is no longer politically much active, his support to the saffron party is being seen as a boost to it ahead of the Uttarakhand assembly polls on February 15 due to his vast experience and stature.
"In our meeting with the BJP president we offered our support to him. It is now up to him to how to utilise us. My father blessed him," said Rohit Shekhar.
Asked why his father decided to leave the Congress, he said the party had completely ignored him. "Have you ever seen his photo in any Congress poster?"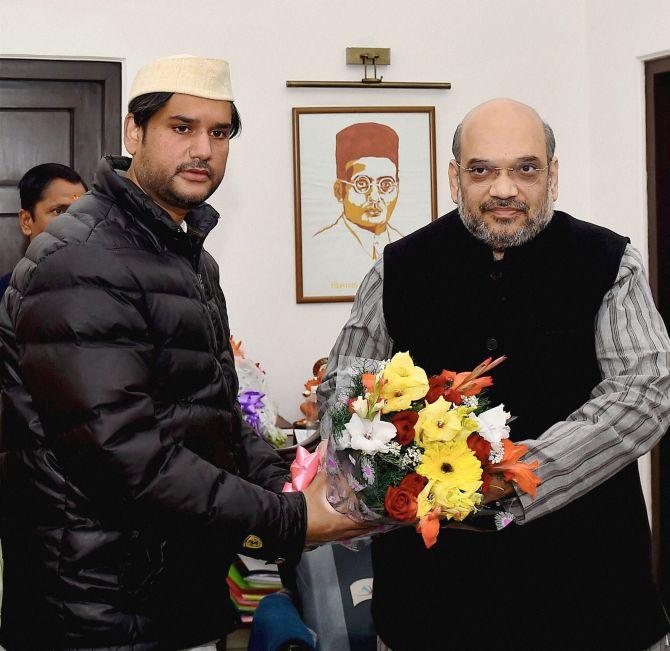 IMAGE: Shah welcomes Tiwari's son Rohit Shekhar to the BJP.
The Congress has been deserted by a number of senior leaders in the hill state and the BJP has awarded many of them with party tickets to contest the assembly polls. It is yet to announce its nominees for a few seats and it remains to be seen if it accommodates any kin of Tiwari.
With Tiwari crossing over, all former chief ministers of the state are in BJP's camp while the incumbent Harish Rawat is leading the Congress' charge.
Tiwari is among the tallest leaders to have come out of Uttarakhand and was the undivided Uttar Pradesh's chief minister a few times before moving on to become the new state's chief minister.
He remained a Congressman all his life except for a brief period when he, along with several leaders proclaiming allegiance to Sonia Gandhi, broke away to form Congress (Tiwari) when the party was headed by P V Narasimha Rao and Gandhi had not joined active politics yet.