Congress fires salvo at Smriti Irani. Is the demoralised party trying to open its account as an Opposition party? Rediff.com contributor Anita Katyal reports.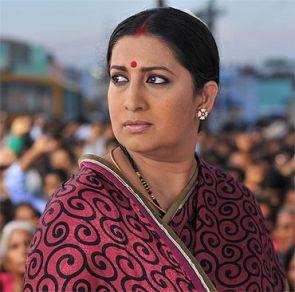 "We will be an effective Opposition," Ajay Maken, head of the Congress party's communication department, told Rediff.com on Tuesday.
Maken's remark came shortly after he criticised Prime Minister Narendra Modi's Council of Ministers, reserving his harshest comment for newly-appointed Human Resource Development Minister Smriti Irani.
Scoffing at her academic qualifications, Maken tweeted, 'What a Cabinet of Modi? HRD Minister (Looking after Education) Smriti Irani is not even a graduate! Look at her affidavit at ECI site pg 11!'
The Bharatiya Janata Party-led National Democratic Alliance was quick to respond to Maken. 'Prime Minister Modi has taken into consideration the capabilities of persons in the allocation of portfolios,' Law and Telecom Minister Ravi Shankar Prasad said, but not disputing that Irani is not a graduate.
The affidavit Irani submitted to the Election Commission says she completed her schooling from the Holy Child Auxillium School and enrolled subsequently at Delhi University's School of Correspondence Courses where she only completed Part I of the Bachelor of Commerce course.
She moved to Mumbai where she found fame playing Tulsi Virani on the television tear-jerker, Kyonki Saas Bhi Kabhi Thi.
Hitting out at Irani, Maken said it is difficult for anybody to justify her appointment. Other Congress leaders maintain it is a matter of shame that a person who is not even a graduate will now appoint vice-chancellors.
Maken -- who came under sarcastic fire from his Congress colleague Mani Shankar Aiyar some years ago for being an alumnus of Delhi's Hansraj College -- appeared to target Irani for her spirited electoral fight against Congress Vice-President Rahul Gandhi in Amethi.
Some Congress insiders question the need for stirring up a controversy over Irani's educational qualifications as this could boomerang on the party. The BJP could be provoked to question Sonia and Rahul Gandhi's educational qualifications, once raised by BJP leader Dr Subramanian Swamy.
"The ruling party can point to Rajiv Gandhi's qualifications. He was a trained pilot, but went on to lead the country," a senior Congress leader remarked.
Maken described the new ministerial team as 'lacklustre', stating it "lacked political and geographical sense."
Comparing the Modi Cabinet to Manmohan Singh's UPA I ministers, Maken said UPA I had experienced leaders like Pranab Mukherjee, P Chidambaram, Arjun Singh and Sharad Pawar. "This team just does not measure up to the UPA council of ministers," Maken said, adding that Modi's ministers sorely lack administrative experience.
Maken also took a potshot at the NDA government for the manner in which it had clubbed ministries. "What sense does it make to give environment and information and broadcasting to one minister and defence and finance to another?" Maken asked, adding that these full-fledged ministries ought to be headed by individual ministers.
Image: Newly-appointed Human Resource Development Minister Smriti Irani.