Ghulam Nabi Azad and Anand Sharma succeed in convincing Rahul Gandhi of zero returns in blocking Parliament.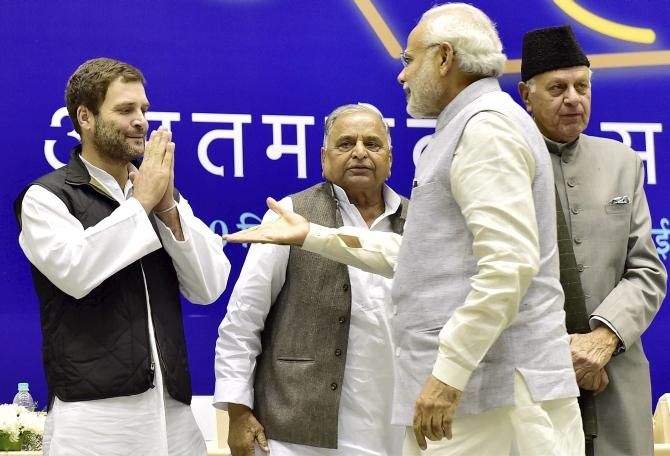 Breaking the ice? Prime Minister Narendra Modi exchanges greetings with Congress Vice President Rahul Gandhi at Vigyan Bhawan in New Delhi on Thursday. Samajwadi Party President Mulayam Singh Yadav and J & K National Conference chief Farooq Abdullah are also seen.
The chances of the Goods and Services Tax bill going forward have brightened with Congress leader Ghulam Nabi Azad declaring in the Rajya Sabha that
they were all for a smooth Rajya Sabha session from Monday.
Finance Minister Arun Jaitley may now introduce the GST bill in the Rajya Sabha on Tuesday.
Azad, leader of the Congress in the Rajya Sabha, said the Bharatiya Janata Party had created a smokescreen against the Congress saying that the Rajya Sabha was being blocked
because of the National Herald case, and that the Congress is not for development.
Azad clarified that the Congress had stalled the Rajya Sabha proceedings on three occasions but only over the General VK Singh controversy and not National Herald.

Union Minister Mukhtar Abbas Naqvi thanked the Congress leader for his assurance to allow the smooth functioning of the Upper House from Monday, and Deputy Chairman P J Kurien adjourned the house on this happy note of reconciliation.

So why did the Congress change its strategy suddenly, after Rahul Gandhi had said that they will not move an inch back from insisting on the resignation of Gen V K Singh?
Congress insiders like Azad and Anand Sharma played a key role in satisfying Gandhi that newspapers editorials were against the stalling of Parliament, and the logjam hurt the Congress more than the mileage it got over Singh.

Regional parties also put pressure on the Congress to not stall Parliament. Bihar Chief Minister Nitish Kumar too weighed in on Rahul Gandhi, telling him that Bihar will benefit from GST
so why hold up its passing.

With this, good sense has prevailed over the Congress and the shouting brigade have lost their important, say senior Congress leaders.

Sources alleged that among those who wrongly briefed the Congress leadership were former ministers P Chidambaram, Jairam Ramesh and Madhusudan Mistry.
However, with the emergence of Azad and Anand Sharma, their voices have been muted, the sources said.