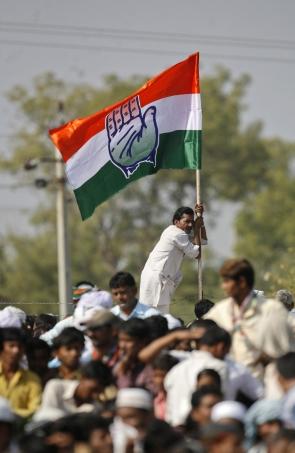 The bandh call given by the Congress, demanding the resignation of Gujarat Chief Minister Narendra Modi over the explosive resignation letter by suspended Indian Police Service officer D G Vanzara, evoked a partial response across the state.
Overall, the bandh was peaceful, barring some sporadic incidents like burning of tyres and breaking of window panes of state transport buses, police said.
More than 1,200 Congress party workers and supporters, who were trying to enforce the bandh, were detained across the state, they said.
The workers tried to close down schools, colleges and business establishment, besides stopping trains, city bus services and state road transport corporation buses.
State Congress President Arjun Modhwadia's brother, Ramdev Modhwadia, was also detained in Porbandar, police said.
Commercial establishments in some localities of Ahmedabad remained closed while police detained Congress workers, where they forcefully tried to down shutters of some shops.
Bandh across ten districts of Saurashtra evoked mixed response. Educational institutions remained closed while shops and business establishments partially joined the bandh.
Meanwhile, Congress Member of Parliament from Rajkot, Kunvarji Bavaliya today marched from district panchayat chowk to the Rajkot main street, seeking the dropping of Section 307 imposed on city Congress president Jasvant Bhatti.
Bhatti was arrested on Thursday night and booked under IPC section 307 when he, along with a few Congress workers, attempted to torch a Gujarat State Road Transport Corporation bus.
Congress Member of Legislative Assembly from Rajkot, Indranil Rajyaguru, staged a day long sit-in before the city police commissionerate.
Nearly 10 National Student Union of India workers were today detained when they ransacked a Rajkot Municipal Corporation vehicle near Kalavad road, police said.
Congress leaders Paresh Dhanani (MLA from Amreli) and Jasa Barad (MLA from Veraval) were detained in Amreli and Veraval respectively, police said.
In Surat city, nearly 120 Congress workers were detained, police said, adding the bandh was total in certain pockets of the city. In Navsari, nearly 200 workers were rounded up.
While the Gujarat Congress has claimed that the bandh was a great success, state BJP leaders have disputed this and claimed that people have rejected the bandh call given by the Opposition.
The state Congress has said that given the large scale and "desperate" attempts from the state government to foil the bandh, people of Gujarat have responded to the call given by the party.
"Given the government's desperate measures to suppress the voice of people, the Gujarat bandh call given by our party has evoked an unprecedented response across the state. We believe that the bandh was successful," state Congress spokesperson Manish Doshi told PTI.
Alleging police "brutality" towards party leaders and workers, Doshi said, "In Ahmedabad, officers of the rank of DCP resorted to baton-charging in Hatkeshwar area in which two of our workers were injured, who are undergoing treatment in hospital."
"Another party leader, Surendra Baxi, was not only attacked but was verbally abused by the police. We have received scores of reports of such police behaviour from across the state," Doshi added.
The state BJP has refuted Congress' claims of the bandh being successful.
"The bandh has failed to enthuse people and schools, colleges, banks, offices, transportation; everything is functioning normally. I thank the people of Gujarat for not supporting the bandh call," said state BJP spokesperson I K Jadeja.
"Congress has been resorting to anti-Gujarat activities for the past one decade and voters of the state have rejected the bandh call given by Congress," he added.
The opposition party has given a bandh call seeking the chief minister's resignation after a letter by jailed cop Vanzara slammed Modi and former minister of state for home
Amit Shah of failing to protect the interest of policemen jailed for encounter deaths while implementing the state government's "conscious policy" of "zero tolerance" towards terrorism.
In his hard-hitting resignation letter, Vanzara, 59, a prime accused in four encounter cases in Gujarat, also said, "The place of this government, instead of being in Gandhinagar, should either be in Taloja central prison at Navi Mumbai or in Sabarmati Central Prison at Ahmedabad."
Image for representational purposes only ' Photograph: Reuters