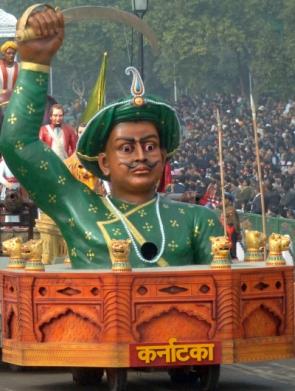 The Congress government's move to celebrate the birth anniversary of the 18th century legendary king Tipu Sultan has stirred a controversy in Karnataka, with the Bharatiya Janata Party alleging that it was an attempt by the ruling party to strengthen its vote bank.

On December 22, Chief Minister Siddaramaiah announced that the government has decided to celebrate "Tipu Jayanti" and the date would be decided shortly.

"There has been a lot of pressure from various quarters to celebrate Tipu Jayanti. We have decided to take this into consideration and will announce the date shortly," Siddaramaiah had said at the release of a book Tipu Sultan: A Crusader for Change by historian Prof B Sheik Ali.

But this has not gone down well with the BJP, with its senior leaders claiming that Tipu was a "tyrant" who committed forced conversions in Kodagu and Dakshina Kannada districts in Karnataka and the neighbouring Kerala.

BJP leader Suresh Kumar said Tipu cannot be considered as a person whose birthday should be celebrated by the government, claiming that the erstwhile Mysuru ruler had committed barbaric acts against people including Kodavas (in Kodagu district).

"We (BJP) have our own viewpoint on Tipu Sultan about his administration, especially when you go to Coorg (Kodagu) and other places where people still remember the barbaric acts committed against Coorgis, who refused to oblige his dictates. So, Tipu cannot be considered as a person whose birthday should be celebrated by the state government," he claimed.

Tipu was a ruler of the erstwhile kingdom of Mysore, who was considered an implacable enemy of the British East India Company. He was killed in May 1799 while defending his fort of Srirangapatna against the British forces.

When pointed out that Congress considers Tipu as secular, Kumar said
that party had its own definition of secularism which is not acceptable worldover.
"Yes, Tipu Sultan was and has been as secular as the Congress leaders are because in the Congress dictionary and their viewpoint they have got their own definition of the word secular which is not acceptable the world over," he said.
"Congress has felt that by projecting Tipu Sultan, their credentials among their votebank will get strengthened. Having tasted defeats after defeats since parliamentary elections, it is resorting to the same step. I wish Congress good," he said.
State Legislative Council Chairman and senior state BJP leader D H Shankarmurthy said that the government has all the rights to celebrate Tipu's birthday, but the Mysuru ruler was "anti-Kannada."
"Before Tipu ruled Mysuru, Kannada was the official language. He replaced Kannada with Persian, which was an alien language," he said.
Moreover, Tipu was not a Kannadiga and he forced conversions in Kodagu and Dakshina Kannada and Kerala, he claimed.
Countering Siddaramaiah's remarks that Tipu supported temples and gave money to construct them, Shankamurthy said no one can also ignore his acts of demolishing temples.
"There may be few instances of Tipu supporting construction of temples by giving money, but it is also true he demolished many temples. A debate has to be there as to why Tipu supported some and demolished other temples," he argued.
Siddaramaiah had said Tipu had supported temples and gave money to construct them and waged a war against British and died on the battlefield for the cause of Indian freedom.
The Congress government has been making attempts to honour Tipu but without much success, the earlier case being an attempt to launch a central university proposed at his erstwhile capital Srirangapatna, also a major Hindu pilgrimage destination, during the UPA rule, which was opposed by the then BJP government in the state.