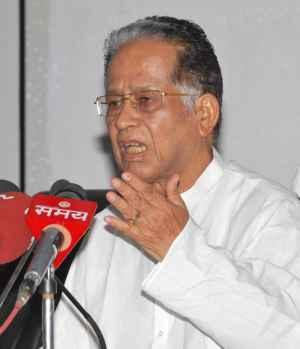 Assam minister Dr Himanta Bishwa Sarma who on Monday quit from the Tarun Gogoi cabinet said that he had been forced to take the step after the Congress leadership had
repeatedly ignored the representations made by the rebel MLAs about the 'inefficient' handling of affairs by the chief minister.
Once known as the most trusted lieutenant of Gogoi, Dr Sarma has been a minister under Tarun Gogoi for 13 years after Congress came back to power in Assam in 2001 assembly election.
Their relations soured once Gogoi inducted his son Gaurav Gogoi into active politics in 2012 by making him a member of Congress party. Gaurav Gooi is now a Lok Sabha MP.
Giving account of chronology of events leading to his resination, Dr Sarma said, "In the last Lok Sabha polls Congress won only three seats out of total 14 seats in Assam compared to 7 in 2009 polls. But it was not a surprise for us (rebel MLAs) as we had made representations before the party leadership (Sonia Gabdhi) that we were not going to win more than four seats if Gogoi remained the CM. Mind you there was no Modi wave in eastern and northeastern India -- BJP failed to make any mark in West Bengal, Odisha, Tripura, Arunachal Pradesh, Manipur, Mizoram, Meghalya, Nagaland and Sikkim."
"We were told that we should wait till the results of Lok Sabha polls were out. Even Gogoi had said that he would quit if Congress won less than seven seats in Assam in Lok Sabha polls. But he never kept his word to resign. Then we asked the party high command to accept our demand for Gogoi's removal after the Lok Sabha poll results were out."
"Then senior party leader Mallikarjun Kharge was sent to Assam on June 23 last to meet every party MLA to assess the situation in the wake of raging rebellion against Gogoi. Fifty Congress MLAs including me told Kharge in clear terms that they wanted the chief minister to be changed. We expressed our views believing that internal democracy prevails within Congress.
"On Saturday I was called to Delhi by a very senior party leader and told that the chief minister would not be changed for the time being and I was expected to work for the party together with Gogoi. I then asked for a mechanism to be put in place to work with Gogoi. I was told that the CM would call me to discuss the issue.

"On Sunday I went to meet Gogoi at his official residence after he had called me. During the discussion I had the impression that he had no concrete plan to revive the Congress party before 2016 assembly election. He made strange proposals like reshuffling the ministry after every four months. Then I decided that it would not be possible physically, mentally and politically to continue working as a minister under Tarun Gogoi. Congress will not win 15 seats (out of total 126) in the next assembly polls if Tarun Gogoi remains the CM. So, I decided to quit," Dr Sarma said adding that high command can still save the party by installing someone neutral ("neither Gogoi nor myself") as the chief minister so that he can lead the government efficiently at least for 18 months before the assembly polls.
He said he was not in race for CM's post during the current assembly term as it would give people the impression that he was leading the revolt against Gogoi only to become the CM.
Meanwhile, Tarun Gogoi said that he was completely taken aback when he came to know that Himanta Biswa Sarma had gone to meet the Governor on Monday as he had met him last evening at his official residence and had also promised to come back for further discussion along with some MLAs by Monday evening.

Gogoi made it clear that he didn't suggest reshuffle of his ministry every four months to Sarma during discussions last evening. "I have never said such a vague thing. How can one
change a ministry after every four months? This allegation has no basis", Gogoi said.

Gogoi said that in his entire political career since 1971 he had never played communal politics as alleged by Sarma. "I have been a disciplined soldier of the Congress party and my
credentials are known to all. I have always worked for the party's interest. My stand and commitment towards the party is well-known. I do not require any certificate from anyone," he added.
Image: Assam Chief Minister Tarun Gogoi