Anil Antony, son of former Defence Minister AK Antony, joined the Bharatiya Janata Party on Thursday and slammed a section of the Congress leadership for "serving the interests of a single family" instead of working for the country.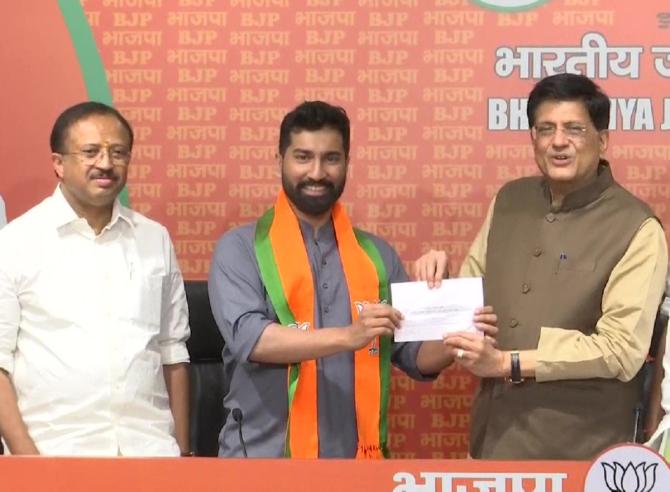 Anil Antony, who headed the Kerala Congress' digital media cell before quitting the party earlier this year, was welcomed into the BJP by Union ministers Piyush Goyal and V Muraleedharan, as the ruling party seeks to increase its foothold in the southern state.
In Thiruvananthapuram, Congress veteran AK Antony, a close confidant of former Congress president Sonia Gandhi, termed his son's action "wrong" and "very painful" for him.
Goyal described Anil Antony as a "very grounded political worker" who was convinced that the BJP cared for the country and also shared the prime minister's vision of sustainable growth.
Anil Antony had resigned from the Congress in January after criticising the party's stand on a controversial BBC documentary BBC on Prime Minister Narendra Modi.
Kerala Congress accused Anil Antony of "betraying his father" on "Maundy Thursday".
"Today (Maundy Thursday) is the day of Judas (Iscariot) who betrayed Jesus Christ for a payment of 30 silver coins. Many such things will happen on that day. This (Anil joining BJP) should also be seen as such an incident," Kerala Congress president K Sudhakaran said in Thiruvananthapuram.
Soon after joining the BJP, Anil Antony began his address with a verse Dharmo Rakshati Rakshitah from epic Mahabharat. The verse loosely translates into 'Dharma (religion) or state of law protects those who protect it'.
"I believe in Dharmo Rakshati Rakshitah. Nowadays, some Congress leaders believe that it is their dharma (duty) to serve the interests of a family. But, I believe that it is my duty to serve the nation," Anil Antony said.
He said the prime minister has a very clear vision to turn India into a developed nation in the next 25 years. "In times like these, the central government and the BJP organisation led by the Prime Minister, Amit Shah and J P Nadda are working tirelessly to take this vision to every nook and corner of the country," he said.
Asked whether he had consulted his father before joining the BJP, Anil Antony said he "strongly believed" that he had taken the right step.
"In my house there are four people. There is my father, my mother, my brother and me. All of us are very different people. He is my father, so we have a very good relationship. He is a person I love and respect the most in my life," he said.
"But this is not about personalities, this is about a difference of opinion and ideas. I strongly believe that I have taken the right step. But, my respect for my father will remain the same. There is no question of any politics in my family," Anil Antony said.
Anil Antony was also considered close to senior Congress leader Shashi Tharoor and had supported his candidature in the election to the post of Congress President.
Anil Antony graduated from the Government College of Engineering, Thiruvananthapuram, in 2007 and launched a start-up, Torque Technology Solutions. He later went to Stanford University in the US to pursue his Masters in Science.
Goyal lavished praise on Antony as a youth leader who has earned accolades in European countries and Japan for his political acumen.
"Anil Antony is a multi-faceted personality. I was very impressed when I saw his credentials," Goyal said.
The BJP has pinned its hope on Antony to expand the party's footprint in Kerala, particularly among the Christian community.