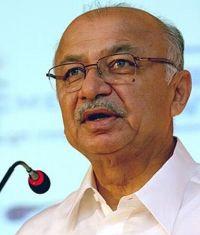 Rattled by the electoral debacle, the Congress is seriously considering replacing chief ministers of Maharashtra, Assam and Haryana in a major shake-up ahead of assembly elections.
The party is also mulling a shake up in its units in 8 to 10 states including Uttar Pradesh, where the Pradesh Congress Committee chief can be replaced.
The names of former Union Minister Sushilkumar Shinde, a Dalit leader and state ministers Bala Saheb Thorat and Radhakrishna Vikhe Patil are doing the rounds as successor to incumbent Prithviraj Chavan.
Top Congress leaders A K Antony and Ahmed Patel met Nationalist Congress Party chief Sharad Pawar on Thursday at his residence for half an hour, when they discussed the possibility of change of guard in Maharashtra, where the 15-year-old coalition was routed in the Lok Sabha polls. The state will see assembly polls later this year.
A top leader said on the condition of anonymity that there are "fifty fifty chances" of change of guard in Assam, Maharashtra and Haryana.
The leader, however, made it clear that no decision is likely to be taken before Monday. Though he refused to assign any reason for it, there is speculation that Congress president Sonia Gandhi may be away for a few days.
"The party's mood is to for change unless there are some difficulties. Besides that PCC chiefs of 8 to 10 states will also be replaced," the leader said indicating that any brainstorming exercise of Congress like a chintan shivir could begin only a decision on changes in the states are taken.
Another senior party leader also said that party veteran A K Antony will be meeting PCC chiefs, CLP leaders and other party functionaries from various states from next Monday and will discuss what went wrong with the party in the Lok Sabha polls and the strategy ahead.
Antony will be meeting leaders of different states separately.
There are indications that Assam is also high on the table for a change of guard as the leadership is of the view that rebellion against Chief Minister Tarun Gogoi in the state is yet to be brought to an end. Assam goes to polls in 2016.
In Maharashtra, the reason for change is that there is a view that it could better the poll prospects of Congress in the next Assembly polls scheduled three-four months later.
While NCP is said to be reportedly more amenable to Shinde's name in Maharashtra as next chief minister, the Congress functionary said that it's a decision that Congress has to take and the NCP chief has not insisted on any name in the meeting.
Congress had won only 2 seats and NCP 4 out of 48 in the Lok Sabha polls.
In Haryana, the party is faction ridden and could win only one of the 10 Lok Sabha seats with Chief Minister Bhupinder Singh Hooda's son Deepender Hooda winning from Rohtak.
"A decision on changes of chief ministers in these states will be taken shortly and the first decision could be made as early as next week," the leader said.
At a meeting of the Congress Working Committee last month, the party had authorised Sonia Gandhi to effect the necessary organisational changes.
Sources that former Chief Minister Ashok Chavan is among one of the contenders for the PCC chief in Maharashtra.
After the party's dismal poll showing, the demand for replacing Chavan has gained momentum.
There is intense speculation that the NCP chief has met the BSP supremo Mayawati and is in favour of taking her on board for the assembly elections in the state, where Dalits have a sizable vote.
The Congress functionary, however, made it clear that his party has so far not even discussed the possibility of any alliance with the BSP in Maharashtra but stopped short of ruling it out.
In Haryana, which faces assembly polls this year, Hooda is considered a strong Chief Minister but various leaders in the state have been critical of his style of functioning. Former Union Minister Kumari Selja had recently said that the Chief Minister should have offered to resign after the poll debacle.
The major shakeup is expected to give a new look to the party in the states besides acting as a buffer against the anti-incumbency factor in these states. It is also expected to bring a semblance of unity in the faction ridden state units.
Congress is henceforth treading cautiously in deciding their successors.
"We are looking for change of Chief Ministers in all three states. But it is not necessary that we change all the three. At this stage, there is no finality," the leader said.
Image: Sushilkumar Shinde