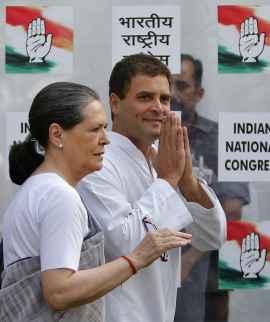 'We can deal with defeat, but there seems to be no roadmap for the future.'
'What one can say when the high command itself is not concerned?'
Rediff.com contributor Anita Katyal reports on how Sonia Gandhi plans a brainstorming session next month to galvanise her beleaguered party.
As dissent continues to brew in the Congress, its president Sonia Gandhi plans to convene a meeting of senior leaders next month and draw up a roadmap for the future.
Congress leaders close to Sonia Gandhi told Rediff.com that the meeting would have been held earlier, but is delayed owing to the ongoing Parliamentary session.
Many leaders told Rediff.com that even though Sonia Gandhi had spoken about the need for introspection after the Congress' electoral debacle, no discernable changes have been made yet.
July's meeting will come as a huge relief for Congress leaders despondent about the lack of introspection, a senior leader, citing anonymity, told this reporter.
When the Congress Working Committee met after the election results to debate the reasons for the party's humiliating defeat, its purpose was lost when leaders chose to demonstrate their loyalty to Sonia Gandhi and Congress Vice-President Rahul Gandhi, who had offered to resign.
Several party leaders, in a departure from the Congress culture, then started speaking out against the leadership. Former minister Milind Deora was the first to hit out indirectly at Rahul Gandhi when he blamed the vice-president's advisers for running a poor election campaign. Deora said Rahul's advisers did not have their 'ears to the ground' and those with 'no electoral experience were calling the shots.'
Former minister and five-term MP Kishore Chandra Deo urged Sonia Gandhi and Rahul Gandhi to introspect on how to 'emancipate the Grand Old Party from the clutches of rootless wonders and spineless creepers, who have held sway for more than two decades and have brought the party to such a pass.'
Former Maharashtra chief minister Abdul Rahman Antulay blamed the Congress high command, asking, 'What one can say when the high command itself does not appear concerned?'
"We can deal with defeat, but what is upsetting is that there seems to be no roadmap for the future," a glum-faced Congress leader said.
Another senior leader felt this is precisely why people are speaking out against the leadership. Leaders said the introspection will set the stage for an overhaul of the party organisation. It will galvanise younger cadres and leaders and reposition the party.
Leaders say Sonia and Rahul have met leaders individually and in small groups to get feedback on the way forward.
Image: Congress President Sonia Gandhi with her son Rahul Gandhi after the party's debacle on May 16, 2014.
Also read: 'We fought the elections with 19th century ideas'