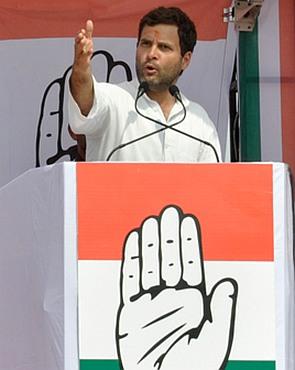 Launching a scathing attack just as electioneering ends, Congress vice president Rahul Gandhi on Tuesday accused Narendra Modi of being two-faced, saying that on the one hand, he talks of Uttar Pradesh's development and then on the other, has joined hands with those who humiliate people from the state.

Speaking at a rally in Mirzapur, he also said he wanted the president of the United States to wear a watch with the 'Made in Mirzapur' tag.
"I want to see a day when the American president is asked: 'Bhaiyya, what is the time?' He looks at his watch and on it is written 'Made in Mirzapur'. He then asks his people: 'Where is this Mirzapur? These youth of Mirzapur are snatching jobs from American youth. Where is this place?" Rahul Gandhi said.

Referring to Raj Thackeray-led Maharashtra Navnirman Sena's extension of support to Modi, the young scion said that when youths from UP go to Maharashtra in search of employment they are beaten up by the MNS and Shiv Sena activists.

"Modi talks about empowering people from Uttar Pradesh and Bihar but joins hands with the MNS and Shiv Sena who threaten people from states. He has one face there and another here," said the Congress top gun at an election rally at Sonbhadra in Uttar Pradesh.
At another rally in Mirzapur in the same state, the Gandhi scion raked up the issue of attacks on North Indians in Mumbai and accused the Bharatiya Janata Party of double standards. "Wherever there is a Congress government, there are jobs... in Karnataka, Assam, Haryana, Maharashtra. Youths of Uttar Pradesh go to Mumbai as jobs are available there. But the Shiv Sena, MNS and BJP people thrash them. And here they talk of development," Gandhi said frantically wooing voters in the last lap of elections in politically-crucial Uttar Pradesh.
Complete Coverage: Elections 2014
"They engineer riots six months before the elections. They will only make people fight with each other, but won't talk of issues... employment, power, irrigation," he said.
Highlighting BJP's double face, Rahul referred to Mangalore pub attack on women a few years ago by a right-wing group. Gandhi said that then too the BJP had attacked women and on the other hand, they put up posters of women empowerment.
In an oblique reference to the snoopgate row, Gandhi said women were scared to speak on their phones in Gujarat. "Modi talks about empowerment of women under his government. Don't women have power? They already have power, give them respect and rest they will do themselves," he said.
Sharpening his attack on the saffron party, the Congress leader said the BJP wants an 'India Shining' government where wealth is concentrated in the hands of 2-3 industrialists. The Congress leader further said he would not talk about the BJP, as it can never do anything good for the people. "I do not have expectations from the BJP as it runs governments for only a handful of people," he said.
Training his guns at UP Chief Minister Akhilesh Yadav, Gandhi said "his government does not talk about welfare of the people or development of UP. You have a young CM, but he also disappointed us. Earlier you had a government led by Mayawati. It also did not do anything."
"The BJP, Bahujan Samaj Party and the Samajwadi Party can do nothing for the people or for the state. They promote caste or religion-based politics. Only a Congress government can take this state forward."