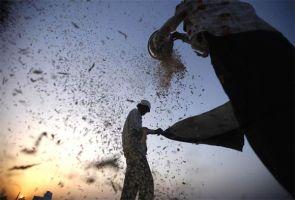 Congress reached out to Samajwadi Party Supremo Mulayam Singh Yadav for his support for passage of the Food Security Bill which is expected to be introduced in the Lok Sabha on Tuesday coinciding with the birth anniversary of Rajiv Gandhi.
Food Minister K V Thomas, along with Parliamentary Affairs Minister Kamal Nath and Congress President Sonia Gandhi's Political Secretary Ahmed Patel met Yadav in the evening, close on the heels of a meeting convened by Prime Minister Manmohan Singh on the strategy ahead for the food bill.
Senior Samajwadi Party leader Ramgopal Yadav was also present during the meeting after which the SP Chief Whip Shailendra Kumar said a meeting of the SP parliamentary party will be held on Tuesday morning to take a view of the Food Bill.
SP is a key outside supporter of Congress-led UPA government. Earlier this month, Mulayam had said his party was ready to support the bill if the government promises to protect the interests of farmers and ensures they get profit for their produce.
Bahujan Samaj Party, which is another outside supporter, has also backed the bill but its chief Mayawati was critical of bringing an ordinance to bring it into effect.
Congress sought to woo Mulayam at a time when it has been confronted with a large number of amendments from the opposition and the government is insisting that it would accept only those amendments which are "workable".
It also comes at a time when there have been continued protests by Telugu Desam Party MPs on Telangana issue.
Parliamentary Affairs Minister Kamal Nath said Speaker Meira Kumar will take a decision on Tuesday morning on what should be done about the protests by TDP MPs.
While Nath said no politics should be involved in the measure, Opposition leaders have been insisting no bill should be passed in the din.
The meeting, convened by the prime minister, was attended by Food Minister K V Thomas, Women and Child Development Minister Krishna Tirath, Rural Development Minister Jairam Ramesh, HRD Minister M M Pallam Raju and Finance Minister P Chidambaram among others.
"We discussed the various amendments moved by the parties as to which all can be accepted so that the bill can be passed easily," Nath said.