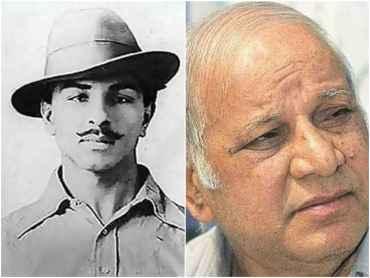 Amid speculation that Atal Bihari Vajpayee and Netaji Subhas Chandra Bose may be named for the Bharat Ratna, a Congress leader on Sunday said Bahujan Samaj Party founder Kanshi Ram and Aligarh Muslim University founder Sir Syed Ahmed Khan should also be given the country's highest civilian award.
Rashid Alvi said Subhash Chandra Bose should be given the award and the Andaman and Nicobar Islands named after Netaji as he had brought freedom to the islands much before the mainland.
He, however, said the awards should be announced only after the upcoming assembly elections in four states, including Maharashtra and Haryana, to avoid any politics.
Alvi told PTI he was writing a letter on the issue to Prime Minister Narendra Modi.
Meanwhile, senior Congress leader Manish Tewari sought considering names of legendary freedom fighters including Bhagat Singh, Rajguru and Lala Lajpat Rai for Bharat Ratna.
"If govt going the historical route on Bharat Ratnas it should also consider the names of Bhagat Singh, Rajguru, Sukdev, Lala Lajpat Rai...," he said on Twitter.
Tewari also suggested names of founders of the INA Rash Behari Bose, Gen Mohan Singh, Annie Besant & AO Hume and Gopal Krishna Gokhle in his tweet.
The former Union minister also recalled litigations in early 1990s over conferring the highest civilian award.
Speculation that Vajpayee and Subhas Chandra Bose may be named for Bharat Ratna has been fuelled by the Union home ministry placing an order for five Bharat Ratna medallions.
BJP leaders have in the past demanded Bharat Ratna be awarded to Vajpayee.
Prime Minister Narendra Modi would take a call on this and probably would announce it in his Independence Day speech.
Image: Bhagat Singh and Kanshi Ram