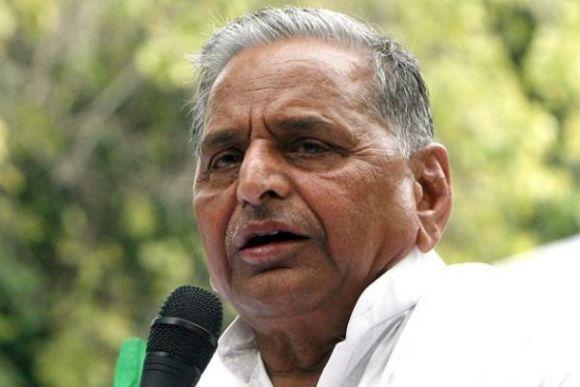 Extending support to communal violence Bill, Samajwadi Party chief Mulayam Singh Yadav on Friday said he was disheartened that it was "put on hold" in Parliament by the Congress, which buckled under the pressure of communal forces like the Bharatiya Janata Party.
He said the Bill should be passed in the current session of Parliament.
"We are disheartened that the Bill has been put on hold in Parliament... We protest and condemn the move... This Bill has been put on hold under pressure of communal forces in a haste," Yadav told media persons while addressing a press conference.
"Demands of Muslims should be considered and the Bill should be passed in the current session," he said. On February 5, Opposition had scuttled introduction of the communal violence prevention bill in the Rajya Sabha, contending that Parliament does not have the competence to legislate this law as it will violated the spirit of federalism.Later, Deputy Chairman P J Kurien deferred the Bill in view of the "mood of the House" after the move was opposed by the BJP, the Communist Party of India-Marxist, The All India Anna Dravida Munetra Kazhagam, the Dravida Munetra Kazhagam and the Samajwadi Party.
Earlier, the BJP had also taken a jibe at the government for its "failed attempt" to bring the Bill, saying its strategy to give a "facelift" to its "sinking" image has fallen flat.
The BJP claimed the ruling party deferred the bill as it feared defeat.
Yadav alleged that Congress always bowed to the pressure of communal forces and its "intentions were never clear". "When government will table the Bill in Parliament, it will get passed... This is not a simple matter... Why has the government has backtracked from it," he asked.
"The Congress has put the Bill on hold under BJP pressure," he said. Asked whether his party would withdraw support to the United Progressive Alliance government, Yadav said,"Why should we withdraw support... Now only one-two months are left".