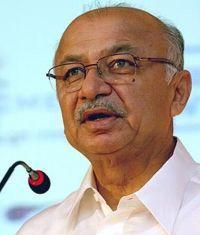 The controversial Communal Violence Bill and the bill for creation of Telangana will be tabled in the next session of Parliament, Union Home Minister Sushilkumar Shinde said on Thursday.
"Communal Violence Bill will definitely come in next session of Parliament. We will also bring the Telangana Bill in the next session," he told reporters on the sidelines of a function in New Delhi.
Government had earlier announced that the 'Prevention of Communal and Targeted Violence (Access to Justice and Reparations) Bill, 2013, which is facing stiff opposition from the Bharatiya Janata Party and some other parties, would be tabled in the just-concluded winter session of Parliament and the Union Cabinet also had cleared the draft early this week.
However, due to the continuous uproar in both Houses of Parliament, the bill was not tabled.
The Andhra Pradesh Reorganisation Bill or the Telangana bill has been approved by the Union Cabinet and sent to Andhra Pradesh assembly for approval.
Shinde had announced that the Telangana Bill would also be brought to Parliament during winter session but the legislation was not tabled.
Parliamentary Affairs Minister Kamal Nath has said Parliament could be convened at a short notice in the new year as the winter session has not been prorogued after the two Houses adjourned sine die yesterday.