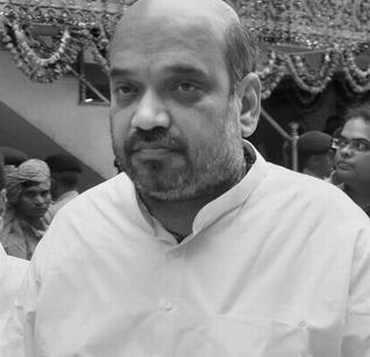 A commission of inquiry is likely to be ordered by the Centre into the alleged "snooping" on a woman in Gujarat allegedly at the behest of Amit Shah, a close aide of the Bharatiya Janata Party prime ministerial candidate Narendra Modi.
The home ministry has prepared a note to be placed before the Union Cabinet for its approval for conducting the probe either through a sitting or a retired Supreme Court judge.
"We are waiting for the clearance of the high-ups. Once we get it, we will move the Cabinet for its approval," a home ministry official said.
Sources said the Commission of Inquiry will be ordered under the commissions of Inquiry Act and is expected to be given three months time to complete the probe.
Lok Sabha elections are likely to be held during April-May 2014.
A commission of Inquiry will have independence as well as adequate powers to seek official documents and call people for questioning. A probe by such a Commission is considered more credible than a normal police probe, sources said.
The illegal surveillance on the woman architect, allegedly by the Gujarat Police was apparently in violation of phone-tapping rules as it was reportedly carried out without the mandatory permission from the Centre when she went out of the state.
Sources said a state Home Secretary is empowered to order phone-tapping within the state but when the surveillance is carried out in multiple states, permission of the Union Home secretary is mandatory.
The Gujarat police appear to have tapped the telephone of the woman when she was also in Maharashtra and Karnataka, besides Gujarat, without taking any authorisation from the Union Home Secretary, the sources said.
Home Minister Sushilkumar Shinde has already said many women organisations and non-governmental organisations had given representations to President Pranab Mukherjee demanding a probe into alleged snooping on the woman and the President had referred the applications to the home ministry.
"My department is examining them. There are some formalities that have to be completed. It should not happen or look like as if we are taking a haphazard decision against a party. Hence, our department is going into details and once that is done, very soon we will take a decision on that," he had said.
Two news portals, Cobrapost and Gulail, had claimed on November 15 that Amit Shah had ordered illegal surveillance of a woman in Gujarat at the behest of one "saheb".
They had released purported taped conversation between Shah and Indian Police Service officer G L Singhal to support their claim but said the authenticity of the tape could not be confirmed.
However, the father of the woman had told the National Commission of Women that his daughter does not want any probe into the issue as there was no encroachment into her privacy.