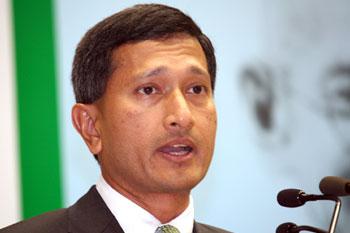 The second day of the Pravasi Bharatiya Divas in New Delhi had an interaction with ministers of Indian origin in different countries. The subject was 'Interests and Concerns of the Diaspora.'
Speaking on the occasion, Vivian Balakrishnan, a politician from Singapore said, "This looks like a Malaysia Indian Congress. I can see so many familiar faces."
Balakrishnan, 48, is a member of the governing People's Action Party in Singapore, and currently the country's minister for community development, youth and sports. He was born to a Tamil father and a Chinese mother.
He was 'proud' to state that Singapore was the second largest investor in India. "India is stable, secure and growing, and thus on a rising curve," he said. He said that his forefathers left India in search of opportunities four generations ago.
"They had worked hard and now we had to build on that. My expectations from India are realistic," he added.
Former Prime Minister of Fiji Mahendra P Chaudhary said that there were continuous coups in his adopted country and they were helpless. He pointed out that, "No Indian airline flies to the South Pacific region," and thus interaction was limited. He said that Indians should come forward and invest in Fiji as there was 'tremendous tourism potential.'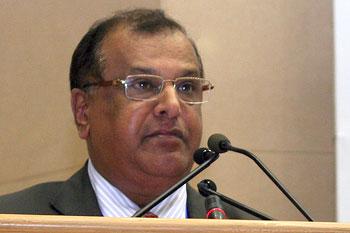 Vasant K Bunwaree, minister for education, culture and human resources in Mauritius, said, "We always pay homage to our forefathers from India for preserving our culture in Mauritius. There we are peace loving and have harmonious relations with people of other faiths. Mauritius is a multi ethnic pluralistic society."

He said that they gave prime importance to education. "In 1901, Mahatma Gandhi had told us to consider Mauritius as our motherland, educate our children and to take interest in public affairs," he said.

Bunwaree pointed out, that education was free and compulsory till age the of 16 in Mauritius.
"Schools are free and transport for students is also free. We have a high literacy rate. Students could learn Indian languages like Hindi, Marathi, Urdu, Oriya and even Bhojpuri there," he noted.

For him, coming to India was like 'coming home.'
Pillay Ravigasen Ranganathan is a member of the African National Congress party in South Africa, and belongs from the Natal province.
Ranganathan noted, '2010 was a significant year as 150 years ago on November 16, 1860 Indians first came to South Africa.'
He stated that the process of reconciliation and forgiveness had started in 1994. 'There were 1.3 million South Africans of Indian origin, and I am a fourth generation immigrant," he said.

 "South Africa is unique, as right from the time of Gandhi every generation had been influenced by great leaders who were of Indian origin," Ranganathan said.
He repeated the oft-quoted legend, "You gave us Gandhi and we gave you a Mahatma." 
"The biggest problems we face in South Africa are poverty, violence and drug abuse. India should be consistent in its support to South Africa," he pleaded.

He said there they were 'proud of India's achievements in the world.' He repeated what Nelson Mandela had said: "It is important to take everyone along with you, it might delay the process, but it is important."
Images: (top) Singapore minister Vivian Balakrishnan addressing the Pravasi Bharatiya Divas in New Delhi
            (below) Mauritius minister Vasant K Bunwaree during the PBD conference in New Delhi
Photographs: Reuben N V in New Delhi
Text: A Ganesh Nadar in New Delhi