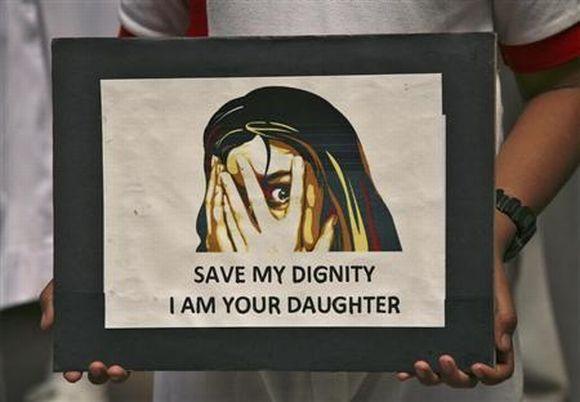 He ceases to be a father, a brother, an uncle, a husband, a teacher or a boss the moment he violates your dignity. It's never easy to talk about the horror, but it's essential to, says Gauri Ghadi.
It's close to a year since the horrific gang-rape of a student in Delhi left our nation seething. People spilled out into the streets, in what we could say, was the largest protest in post-Independence India.
And it wasn't restricted to candlelight vigils and anti-government sloganeering alone. The horrific December 16 incident gave birth to the historic new anti-rape bill. The four convicts were given a death sentence.
I had believed that rape changed India. That with the conviction of the four monsters on board the Delhi bus that fateful day last December, justice had been met not only for the Delhi braveheart, but also for every girl and every woman who felt violated.
Clearly, I was wrong.
A young lawyer wrote last week that she was sexually assaulted by a 'highly reputed, recently retired Supreme Court judge' while she was interning with him last December, ironically, when the nation was raising its voice against the Delhi gang-rape.
'For my supposed diligence I was rewarded with sexual assault... from a man old enough to be my grandfather,' she wrote on a blog. '...long after I left the room, the memory remained, in fact, still remains.'
Take note: 'Old enough to be my grandfather.'
On Wednesday, Tehelka's illustrious editor-in-chief Tarun Tejpal, another man of supposed high repute, stepped aside after a co-worker, 'almost the age of his daughter', accused him of sexual misconduct.
Take note: 'Almost the age of his daughter.'
The Delhi rape has NOT changed India. There has been no change in our sexual assault culture. The big question is why?
Why did our 'honourable' judge and our 'famed' journalist brazenly assault their juniors? Abreast of the laws, what drove them to the transgression?
My answer: These men in power believed that their monstrous acts would go unreported, no word would ever be spoken and that they would get away. Probably, they even did in the past.
And they would have had their way yet again had it not been for the two bravehearts -- the intern and the scribe who painfully stood up against the men they looked up to. So let's take a page out of their book of bravery.
It's never easy to talk about a sexual assault, but it's essential to.
Once a man violates you, he ceases to be a father, a brother, an uncle, a husband, a teacher or a boss. He is nothing but a sexual predator.
And this sexual predator should not be given the power to 'atone' himself. The power to decide his punishment lies with us.
It need not necessarily be physical abuse, but even an inappropriate touch, sexist banter or a remark made in bad taste needs to be discouraged. A no-nonsense policy should be a norm.
Say no; stop the shame! The burden of embarrassment is not for you to bear, it's his.
Let's us not try to forget about the incident or come to terms with it. There is no such thing as putting it all behind you and moving on. The only way to move on is to expose the misdeed.
It's not okay to feel guilty about what happened for it's not our fault. What we need to feel guilty about is not reacting strongly to violation of any sort.
It's no point being sad, we need to be angry and channel it right.
Remember, nothing's going to change unless we talk about it.
You and me are in this fight together and, as the young intern wrote on her blog, 'If you are not with us, you are against us.'
Let's stand up and speak up. We owe it to the Delhi student, the intern and the Tehelka journalist. We owe it to ourselves.
Let's take this fight forward.