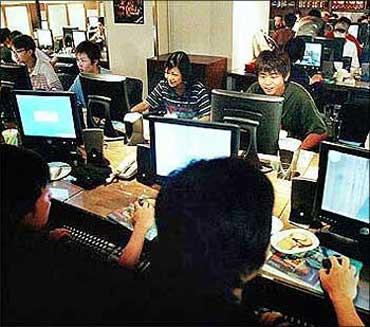 The recent alleged sabotage of BSNL's network in coastal Andhra Pradesh by a major Chinese telecom equipment maker has once again reminded Indian intelligence agencies that when it comes to hacking, China is India's biggest concern. Vicky Nanjappa explains why.
India's intelligence agencies and the department of telecommunications have jointly begun an investigation into the alleged role of Chinese telecom equipment maker Huawei hacking into Bharat Sanchar Nigam Limited's network and sabotaging its expansion plans in Rajahmundry district in coastal Andhra Pradesh.
This is yet another indicator of how interested the Chinese are in India. Worse, it strengthens the claim by various agencies that China is looking to target India through the south Indian states.
According to an Intelligence Bureau official, China continues to pose a threat in every quarter. The hacking into the BSNL networks is yet another reminder of how they have been focusing on operations in south India.
The IB, which is also part of the BSNL hacking probe (conducted by the DoT), says this is a cause for concern since the areas in which the networks have been allegedly hacked are all coastal belts.
"There is a two-pronged approach to this probe," the IB official told rediff.com. "First; we are trying to find out if the Chinese company was trying to gather information, if there was a deliberate sabotage of the BSNL network along the Andhra Pradesh coast, and second, we are also looking into the angle of corporate rivalry," he says.
"We are relying on the local networks along the coast and are trying to find out if information was being sought by the Chinese company," he adds.
The other sabotage angle to this probe would be whether the Chinese were trying to stop the expansion plans by the BSNL at Rajahumundry in Andhra Pradesh.
This is a cause for concern since India does not want any war between two Chinese companies on Indian soil -- the tender for BSNL's expansion plan was bagged by ZTE, a Huawei rival. According to the complaint lodged by BSNL, Huawei had sabotaged the Base Station Controller, which was part of the seventh phase of the expansion plan because of inter-corporate rivalry.
"While this may be a case of rivalry, we are also concerned about the sabotage of the BSC. A lot of information goes through the BSC, and only a detailed probe will reveal as to how much information has leaked out," the official informs.
The BSC controls the mobile radio base stations and is used a lot by security agencies.
American intelligence agencies have often warned India about Chinese telecom companies. Major Chinese telecom companies have often been accused of trying to snoop. The American intelligence committee has said in a report that it would be 'foolish' to let Huawei operate in foreign networks.
Various reports have suggested that Huawei has always undercut other competitors, and this has pushed it as a major player in the telecommunications market.
There have been probes into illegal arms smuggling by the Chinese using the ports of Tamil Nadu and then offloading arms in northern Kerala.
Take the Kodikkarai fishing port in Tamil Nadu, for instance. There are numerous Sri Lankan smugglers there, who have been involved in smuggling drugs for quite some time now, according to officials. Allegedly, the Chinese are transporting arms into India through these smugglers, that eventually end up in northern Kerala.
The probe has revealed that the vessels offload arms and transport them later through ferry services, and a major chunk of these operations have been found near Nagapattinam district, around the Kodikkarai fishing port area.
There have been allegations of Chinese ships wandering into the Indian coast and indulging in illegal smuggling of arms. Second, these areas also face a major Naxal insurgency and their movements are constantly monitored by security agencies.
"We suspect that by hacking into the network, they could have been trying to gather information on the security strategy," the official added.
India ranks among the top five countries which face hacking risks. There have been instances where China has hacked into emails and phone calls of officials and politicians.
In addition there is also an ongoing probe into Chinese hackers allegedly hacking into our nuclear stations.
There have also been two instances where Chinese hackers managed to pull out some data from nuclear stations in south India, allegedly because some employee carried their personal pen drive into the station. It was believed that the pen drive was planted by a Chinese agency, with the help of which some data was compromised.