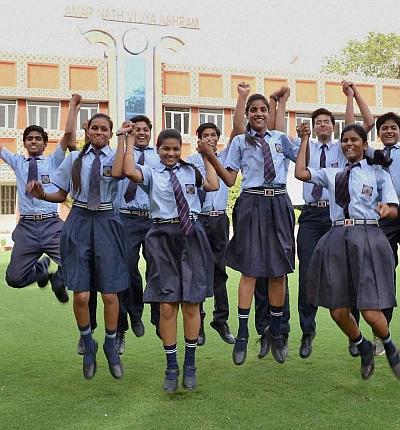 Though the Maharashtra State Board of Secondary and Higher Secondary Education's Secondary School Certificate examination threw up a pass percentage of 89.56, which is at 1.90 per cent less than last year, the results threw up other interesting figures.
An analysis of the state's Class 10 result done by Rediff Labs revealed that in 97 per cent of the Talukas in 36 districts in Maharashtra, girls had fared better than boys.
The map below visualize the difference of pass percentage of girls and boys in every taluka.
Girls registered an overall pass percentage of 91.41 while boys registered a pass percentage of 87.98.
The talukas where the pass percentage difference between girls and boys is over 20% are listed below. Interestingly, none of these talukas are big cities!
| | | |
| --- | --- | --- |
| Taluka | Boys passed (%) | Girls passed (%) |
| Nashik, Nashik | 58.78 | 81.77 |
| Deola, Nashik | 60.09 | 82.33 |
| Khalapur, Raigad | 49.08 | 71.22 |
| Tiosa, Amravati | 59.30 | 81.07 |
| Poladpur, Raigad | 69.36 | 90.95 |
| Kavathemahankal, Sangali | 70.58 | 92.02 |
| Igatpuri, Nashik | 60.83 | 81.54 |
| Bhatkuli, Amravati | 50.35 | 70.63 |
| Newasa, Ahamadnagar | 66.44 | 86.49 |
For more data driven journalism, check out Rediff Labs