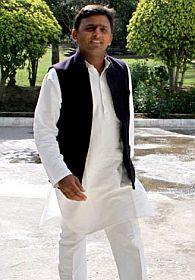 Dear Chief Minister:
We the citizens are concerned about your government's reportedly unfair suspension of IAS officer Durga Shakti Nagpal for doing her job.
The reason given for the decision was that she ordered the demolition of the wall of a religious site in Noida, but with the district magistrate's report giving her a clean chit, the rationale behind your government's decision has become untenable.In the meanwhile media reports have highlighted Ms Nagpal's resolve to fight the sand mafia in Gautam Buddh Nagar, and claimed that this fight is the real reason behind her suspension.
In fact, these reports even suggest that Ms Nagpal's crackdown upset some Samajwadi Party leaders, which is why your government has suspended her.
We do not say that these reports are true; but the longer your government keeps the officer out, for an offence that an inquiry report has said did not take place, greater veracity gets attached to reports about parts of your government's complicity with the sand mafia and its illicit activities.
Mr Chief Minister, as someone who entered office with enormous hopes pinned on your young shoulders, we set great store by your ability and willingness to clean up the system, ensure greater accountability in the establishment, and be a shining example of how politics can and should be practised differently.
We hope you will heed our call and reinstate Durga Shakti Nagpal and encourage her and other government officials in Uttar Pradesh to do their jobs fairly, fearlessly and without favour.
Best wishes
Please sign the petition to Chief Minister Akhilesh Yadav by submitting the form below. We will collect the valid petitions and submit them to the UP chief minister's office.