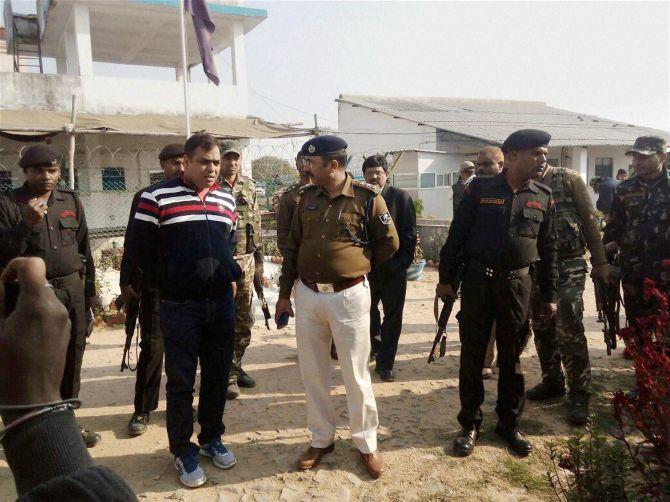 A Central Industrial Security Force jawan on Thursday shot dead his four senior colleagues with his service rifle in a fit of rage following a heated argument in Bihar's Naxal-hit Aurangabad district, officials said.
The fragging incident was reported around 12:45 am at the Nabinagar Power Generation Company Ltd unit which is guarded by the force.
Constable Balveer Singh, hailing from Aligarh in Uttar Pradesh, fired about two dozen bullets, killing Head Constables Bachha Sharma and Amarnath Mishra on the spot, while Assistant Sub-Inspector G S Ram and Head Constable Arvind Kumar later succumbed to grievous injuries in a nearby hospital.
The CISF headquarters in Delhi issued a statement saying any issue related to service leave had nothing to do with the jawan taking the extreme step, adding he had availed this facility 'well above' the limit.
"He (Blaveer) had just returned from leave eight days ago on January 4 (and reported to the unit) and had not asked for leave again. There was no issue at all regarding his leave. In fact, he had availed more than two-and-a-half months leave on several occasions during the last one year, which is well above the annual normal leave authorisation. So, leave was absolutely not an issue in his case," CISF spokesperson Deputy Commandant Manjit Singh said.
Earlier reports suggested that the constable had an argument over leave issues following which he opened fire.
"The police have registered a case of murder and are investigating. As soon as the investigation is complete they shall inform us about the reason behind this incident. We will update you in due course," he added.
The incident took place when the victims and some others had assembled for a shift change.
A heated argument ensued and the CISF jawan lost his cool, firing his rifle multiple times, Superintendent of Police Satyaprakash said.
He was quickly overpowered by other CISF personnel and handed over to police who arrested him. But before that could be done his targets lay sprawled on the blood splattered floor.
Sources said the trooper was sent for a special yoga session between November 10 and December 24 last year at the CISF's training institute in Deoli in Rajasthan. Following that he had gone on leave to his home before resuming duty on January 4.
The CISF unit in Nabinagar is deployed at the NPGCL unit as part of its mandate to secure the facility against threats from Naxals and other extremist elements.
NPGCL is a Joint Venture of the NTPC and Bihar State Electricity Board.
The CISF said a Court of Inquiry has been ordered into the incident.
IMAGE: The site where a CISF constable opened fire and killed four of his colleagues in Aurangabad district of Bihar on Thursady. Photograph: PTI Photo