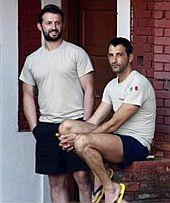 The two Italian Marines, who are facing murder charges in Kerala, arrived in Kochi on Friday morning after celebrating Christmas with their families and surrendered their passports at the trial court in Kollam.
Massimiliano Latorre and Salvatore Girone, who were allowed to go home for two weeks by the Kerala high court on December 20, arrived by a chartered flight at 7.50 am.
They were arrested on February 19 last year for shooting to death two Indian fishermen -- Ajesh Binki, 25, and Jelestine, 45 -- from onboard merchant vessel 'Enrica Lexie' off
the Alapuzha coast. The marines claimed that they had mistaken the fishermen for Somali pirates.
Shortly after their arrival, they drove to Kollam to comply with the court's direction that they should surrender their passports as soon as they returned to India.
As part of the procedures, the marines filed an affidavit before District and Sessions Judge P D Rajan, stating that they had not only kept their assurance to the court but returned to India a few days earlier than the time-frame set by the court.
The judge permitted the marines to withdraw the Rs six crore bank guarantee executed by them as part of the condition set by the Kerala high court for allowing them to join their families in Italy for a few days.
The judge also extended the residence permit of the marines up to May 13, 2013 and asked them to appear before the court on January 15 for further proceedings in the case.
Earlier, Italian Consul General in India Giampaolo Cutillo told reporters at Kochi that Italy has fulfilled the commitment given to the court.
"We had committed, the Italian foreign ministry had personally committed to let the two marines back at the end of the special permission and this commitment which was based on the honour of Italian government, of the Italian armed forces and of the Italian diplomacy, has been kept," he said.
"So I am sure the people of India and people of Kerala will appreciate the importance of this gesture, which we have done in good faith and I am sure this will help in finding a positive solution to this case," the diplomat said.
Stringent conditions had been laid down by the court, which had asked them to return by January 10. The Kollam Sessions Court had asked them to be present for the trial on January 15.
The judge extended their residence permit up to May 13, 2013 and asked them to appear before the court on January 15 for further proceedings.
On December 22, the marines had left for Rome after the high court permitted them to go for Christmas for two weeks.