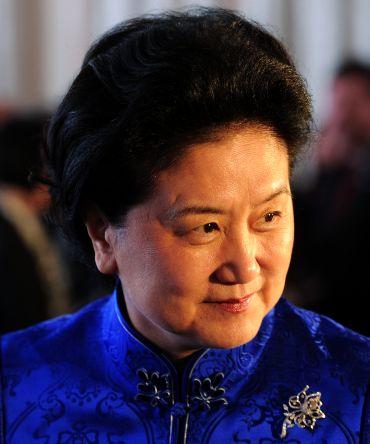 A Chinese lady "princeling" Liu Yandong appears to have a fair chance to get elected to the top echelons of the ruling Communist Party, which hitherto remained an exclusive domain of male leaders, after she was elected Wednesday to the party's top policy body.
Liu, 67, a well-connected princeling and outgoing politburo member in charge of health, education, science and sports and previously part of a policy body in-charge of Tibet could get selected for all powerful nine-member standing committee which would be unveiled Thursday.
While announcing the names of some top leaders who got "elected" to the central committee on Wednesday at the just concluded 18th Communist Party Congress, state-run Xinhua news agency also flashed her name prominently, sparking expectations that she could be first woman leader to make it to China's highest policy making body.
The Congress concluded its week-long session Wednesday and the main leaders would be announced Thursday.
Liu is the only woman in China's 25-member strong politburo, many party watchers say that she has a good chance to get into the exclusive leadership club to create history.
Born in Jiangsu, Liu, whose father was a vice-minister of agriculture in the past, was said to have been initiated into party by former president Jiang Zemin's foster father.
She is the wife of Yang Yuanxing, also 'princeling' who runs his own technology company.
Like present President Hu Jintao, she studied at Tsinghua University and worked as his deputy in the party's youth league. She later did her masters degree in sociology from Renmin University of China.
She rose to prominence through the influential United Front Work Department and at the last party congress in 2007 in which she was made a politburo member in charge of health, education, science and sports.
From the days of its founder Mao Zedong, the 82 million members strong Communist Party of China, which is the longest party to be in power has remained a male bastion, with few woman taking up top positions even though the lot of the women improved under its rule.
According to one study there is one woman among the 25 members of the politburo, one in 16 full members of the Communist Party's Central Committee is female and only one of 120 centrally run state-owned companies, the most powerful economic sector, is run by a woman.
Liu's entry, if it happens could change all that.
Image: Liu Yandong
Photograph: Paul Hackett/Reuters