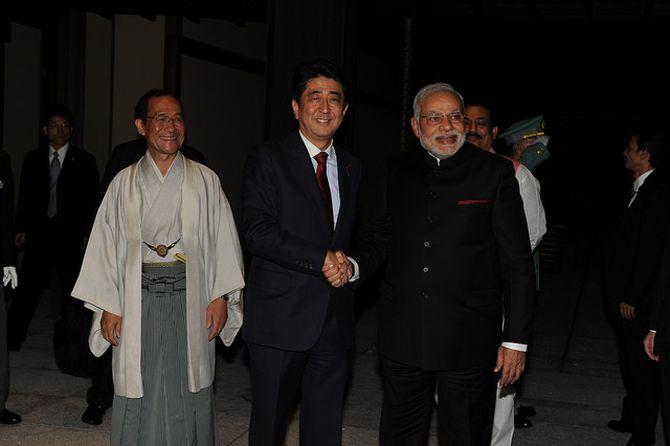 Prime Minister Narendra Modi's remarks in Japan of an "expansionist" mindset of some countries have riled the Chinese official media which said the Indian leader is more "intimate with Tokyo emotionally".
On the contrary, a Japanese paper feels "concerns" about China were apparently the major stumbling block in the inconclusive summit talks between Modi and Japanese Prime Minister Shinzo Abe.
The Chinese foreign ministry declined to comment on Modi's remarks of "expansionist" mindset by some countries encroaching into others' land and entering into others' waters at a business interaction which were seen as oblique comments against China which has dispute with Japan over Senkaku islands in East China Sea.
The official Chinese media on Tuesday warned against any attempt by Tokyo to form a united front against China with India at the centre which it said will be a "crazy fantasy".
At an event at the Sacred Heart University in Tokyo, Modi was asked by a student about how peace could be pursued in Asia despite China's "expansionist" designs.
"You seemed to be troubled a lot by China," he told the questioner, adding that they were asking questions like journalists.
Avoiding a direct answer, he merely said, "India is a democratic country. Similarly, Japan is also a democratic country. If India and Japan together think about peace and positive things, we can make the world realise the strength of a democracy.
"We should focus on the progress and development instead of paying attention to others. If we pay attention to our situation, our condition will be better."
The Japanese daily 'Asahi Shimbun' in its report on the summit talks feels that India's decision not to enter into a civil nuclear deal with Japan and not to upgrade ministerial dialogue should be seen in the background of India's desire not to antagonise China with which it has a border dispute for long.
Referring to Modi's remarks, China's state-run Global Times said in an editorial that Japanese and Western public opinion views them as a clear reference to China, although he did not mention China by name.
The paper reproduced Modi's remarks made in Tokyo where he said, "everywhere around us, we see an 18th century expansionist mind-set: encroaching in other countries, intruding in others' waters, invading other countries and capturing territory".

Image: Japanese Prime Minister Shinzo receives his Indian counterpart Narendra Modi at the state Guest House in Kyoto.