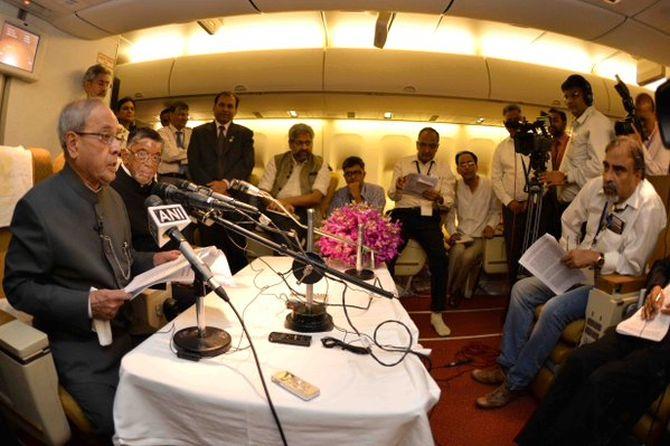 IMAGE: President Pranab Mukherjee addresses mediapersons on board special Air India flight. Photograph: Rashtrapati Bhavan
China has conveyed its willingness to enhance cooperation with India on combating the menace of terrorism, including in the United Nations, President Pranab Mukherjee said on Friday winding up a "fruitful and productive" four-day visit to that country.
Mukherjee, who met the top Chinese leadership including President Xi Jinping on Thursday, also expressed the hope that China will play a "positive and facilitative role" in ensuring a predictable environment for India in its pursuit of civil nuclear programme in bridging the huge power deficit the country faces.
His statement on the two issues in his interaction with the media on board Air India One aircraft on his way back home, assume significance in the context of China's recent action in blocking a UN move to designate Jaish-e-Mohammad chief Masood Azhar as a global terrorist and Beijing's stand that India should sign the nuclear non-proliferation treaty for gaining admission to the elite Nuclear Suppliers Group.
The Chinese stand is seen as a bid to scuttle India's membership of NSG and New Delhi has dismissed the Chinese proposition.
"Terrorism was an important topic which I covered in my meetings," the president said. During his discussions with the Chinese leadership, he conveyed to them that there was universal concern over growing acts of terrorism.
"India has been a victim of terrorism for around three and a half decades. There is no good terrorist or bad terrorist. Terrorism respects neither ideology nor geographical boundaries. Wanton destruction is its only aim.
"Comprehensive cooperation by all countries of the world is essential to tackle this global menace. The international community must engage in strong and effective action. As close neighbours, India and China should work together. The Chinese leadership agreed that terrorism was a menace to the entire human race. They conveyed their willingness to enhance cooperation, including in the UN," he said.
Asked by a journalist whether the specific "current problem" with China, an apparent reference to the Masood Azhar issue, came up in his talks with the Chinese leaders, the president said "We don't discuss any specific issue during."
"We confine ourselves to overall policy issues and not confined to specific issues. This was decided when I was external affairs minister."
On the nuclear issue, Mukherjee said he conveyed to the Chinese leaders that India faces acute energy shortage and was engaged in efforts to significantly expand power generation in the country.
India has announced a goal of 40 per cent non-fossil fuel power generation capacity and it can be achieved only if we rapidly expand the generation of nuclear power.
"I conveyed that it was important for us to have a predictable environment in the above regard and hoped that China, as a close partner in the field of development as well as climate change, will play a positive and facilitative role," he said.
Mukherjee said the two sides agreed that as neighbours it was natural for them to have differences from time to time.
"But what is important is that we should continue to advance our relationship while managing our differences."
On the vexed boundary question, the Chinese leadership conveyed their resolve to seek a fair, reasonable and mutually acceptable resolution of the dispute at an early date.
"I agreed with the Chinese leadership that while we continue to engage in seeking an early resolution of the boundary question, we must improve border management and ensure peace and tranquillity is maintained in border areas," he said.